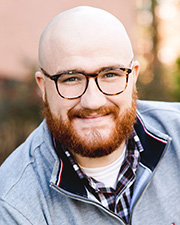 Raynham, MA DJSA Architecture PC has named Daniel Clark as a job captain. In this role, he participates in all aspects of client, team, and project coordination, serves as lead in the preparation of construction drawings, and coordinates with all members of the design team including clients and consulting partners. Additional responsibilities include, but are not limited to, the review of submittals and construction administration.
Prior to joining DJSA, Clark was an architectural designer/job captain at David H. Dunlap Associates, Inc., Hanover Mass.
Clark received both a bachelor of science and master's degree in architecture from Wentworth Institute of Technology and is currently pursuing his Architectural License.
"We're happy to welcome Dan to the DJSA team," said Dennis Swart, president of DJSA. "His industry experience, strong communication and interpersonal skills, and ability to prioritize and multi-task are certain to make him a highly valued member of our organization."
Clark enjoys traveling whether internationally or a random drive that ends up in a different New England state, spending time with family and friends, watching or playing sports, and teaching himself new skills such as cooking and woodworking.
He is a fan of the great outdoors and takes pleasure in hiking, canoeing, and photographing nature.
DJSA Architecture provides a full range of architecture, planning and interior design services to a diversified client base ranging from hospitality, corporate, industrial, retail and multi-family. The DJSA team is committed to providing a thoughtful, collaborative experience for their industry partners while creating innovative design solutions and fostering long-term relationships.