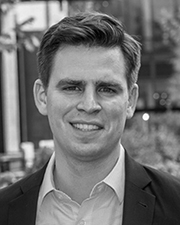 Number of years at firm: 3
One thing on my bucket list: Climbing Mount Rainier in Washington State.
When I am not working, I am: Spending time with my 10-month old son, biking outdoors and volunteering at non-profits.
What recent project, transaction or accomplishment are you most proud of? In 2020, I began working on the Parcel 12 project - the first air rights development in Boston in over 40 years. The project launched in the early days of the pandemic, which made every aspect of construction complicated. Over the past three years I oversaw all of the decisions and operations for construction, including communication with MassDOT and MBTA, overseeing day to day operations, and addressing countless unique issues associated with air rights construction. The project is nearing completion, and I'm so proud of our team for the many milestones achieved this past year.
What makes this nominee a RISING STAR?
"David leads by example, with a steadfast compass. A consummate team player across our entire company, he is his team's rock and believes effective communications and collaboration unlock success. He's at the helm of a Boston and Samuels legacy project, showcasing his ability to complete difficult projects in unprecedented circumstances." - Andi Simpson, Senior Vice President of Marketing, Samuels & Associates