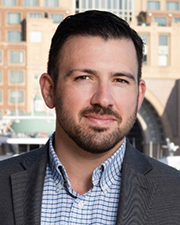 Boston, MA According to LeftField, an owner's project management firm, Matt McBurnie has joined the company as senior project manager.
In this role, McBurnie is responsible for managing the planning, design, and construction of projects within a variety of sectors on behalf of owners and developers. Prior to joining LeftField, McBurnie managed a wide range of higher education, healthcare, life science and hospitality construction projects from ground up vertical buildings to interior fit-outs. His vast experience with diverse stakeholders, strong communication skills, and ability to identify and mitigate project risks has prepared him well for this new role.
"Matt not only brings over 10 years of design and construction knowledge to our team, but he brings excellent communication skills, intuition and demeanor. We are very fortunate to have him on the team leading some of our most significant projects over the past year, and I look forward to his continued success with the company," said Jim Rogers, founder of LeftField
In his free time, McBurnie enjoys practicing Brazilian Jiu Jitsu, fishing, hiking and spending time with his wife and two children.