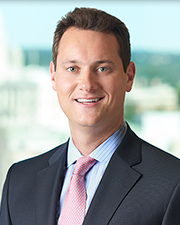 In recent years, many former retail spaces have been converted for other uses, such as industrial or e-commerce (i.e. fulfillment, "pick-and-pack" centers). Before embarking on such a conversion, however, landlords and tenants should take the following into consideration:
Building Size: The landlord should consider the building's size and condition. The landlord will also have to determine whether or not the building can accommodate certain types of alternative uses, such as industrial, and whether or not the building should be expanded or demised into smaller spaces. One typical benefit is that the former retail space most likely has ample parking and loading areas, which are essential for alternative uses, such as industrial or e-commerce.
Building Height: The tenant should consider the height of the building. Luckily, many former retail spaces, especially big-box spaces, have a building height that is desirable for many alternative uses, including industrial and e-commerce. The landlord should also be aware of the building height, and consider modifying the building to accommodate the demand for increased height in the industrial sector. Be aware of zoning regulations!
Open Floorplan: Tenants typically want open floorplans in order to provide adequate space for their logistical inventory, equipment, and staff. A square or rectangular footprint, such as many former big-box spaces, would be advantageous since it creates the space to best fit the tenant's needs.
Building Improvements: All of the conditions described above are important to both the landlord and the tenant. The landlord wants to be in the best position to offer the former retail space for occupancy as soon as possible, and the tenant would like to minimize the amount of work that may be needed to prepare the former retail space for occupancy. As a result, the landlord should consider the condition of the former retail space as it relates to its marketability and potential use, and the tenant should carefully inspect the former retail space to ensure its condition is adequate for its intended use.
Whether you're a landlord who is interested in converting a building for industrial use, or a tenant who has a particular property targeted for your industrial use, understanding the considerations set forth above is a great starting point. The next step would be to work with an attorney and a real estate broker to dive into zoning regulations, building condition analysis, title and survey analysis, other leases or tenancies affecting the property, and other up-front due diligence investigations that will help determine if a conversion is right for you.
Thomas Madonna, Jr. is an attorney in Hinckley Allen's Real Estate group, Providence, R.I.