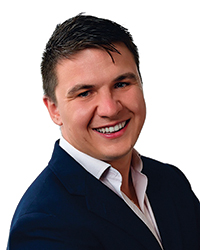 New Haven, CT According to Barbara Pearce, chair and CEO of Pearce Real Estate, Robert Davis has joined the Edgehill Team in Pearce Real Estate's local office.
Davis' achievements include being a real estate investor, real estate marketing, and embracing entrepreneurship whenever the opportunity arises. In addition, he operates a local landscaping company and a digital marketing company. His degree from Fairfield University is in physics and mathematics. Davis enjoys music, software development, and photography. He is also involved with Guilford Tae Kwon Do and holds a black belt.
"Robert brings real estate and technical experience along with that entrepreneurial spirit with him, which will be of great benefit to the company and his clients. We look forward to his success at Pearce for many years to come," said Pearce.