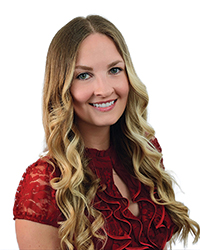 New Haven, CT Barbara Pearce, chair and CEO of Pearce Real Estate, said that Elizabeth Miedzinski has joined the Edgehill Team in Pearce Real Estate's local office.
Miedzinski is a life-long New Haven area resident. She is a graduate of Quinnipiac University where she earned a Bachelor's Degree in Mechanical Engineering, minors in Mathematics and Business, as well as a Master's Degree in Business Administration. Miedzinski has been employed as a senior process engineer and design engineer in the aerospace industry. Miedzinski enjoys cooking, biking, hiking, and singing.
"Elizabeth brings a strong skillset to Pearce, which will be of great benefit to her and her clients. We look forward to her having continued success for many years at Pearce," said Pearce.