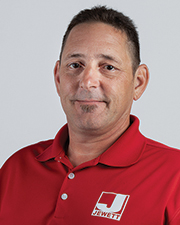 Raymond, NH Jewett Construction has added a new senior superintendent to the team, John Pina. With wide-ranging experience in the industry and numerous certifications, Jewett knew that Pina would be a great addition to the rapidly expanding team. He has held numerous titles from traveling superintendent, to lead superintendent, to his most current title that he holds at Jewett.
Pina has over 25 years of experience in the field and has completed jobs at multiple medical centers, schools, restaurants, data centers, office buildings, and retail facilities. He has impressively taken part in the construction of thirteen Marshalls facilities and eight Target stores.
Pina currently resides in Epping, NH. Outside of work, he loves spending time with his family and doing anything from camping boating in the beautiful lakes and mountainsides of New Hampshire. If he is not with his family, Pina enjoys taking long rides on his Harley or spending the afternoon at a local shooting event.
When Pina was asked about his favorite part of being a team member at Jewett Construction thus far, he said, "My favorite thing about working for Jewett Construction has been the team-oriented and supportive individuals that I work beside. The energy level from the president and vice president to the associates is incredibly contagious and invigorating."