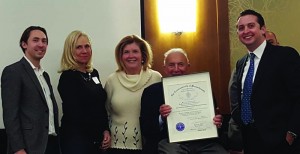 Harold Brown presentation shown (from left) are: Jameson Brown, Maura Nolan Brown, Andrea Howard, Harold Brown and Andrew Musto.
Newton, MA NEREJ's Boston's State of Commercial Real Estate Summit was attended by over 150 real estate professionals. The morning function featured 20 speakers who led timely and informative discussions on a variety of market topics.
First panel - retail update:  moderator David Fleming, principal, PACE Communications Group; Bob Horvath, VP and senior director, national retail group Marcus & Millichap; Evan Eisenhardt, vice president of leasing, Linear Retail; and Chris McMahon, director of brokerage, Summit Realty Partners.
Second panel - industrial real estate update: moderator Bill Pastuszek, principal, Shepherd Associates; Austin Smith, senior vice president, Colliers International; Jeremy Cyrier, president & commercial real estate advisor, Mansard; Ernest Wronka, president, Wronka, Ltd.; and Susan Houston, executive director of MassEcon.
Third panel - office market: moderator Danny Shacharm, director of marketing, Compstak; Gerry-Lynn Darcy, vice president real estate, Lupoli Companies; John Boyle III, executive managing director, Cushman & Wakefield; Rich Beal, president, Perry Brokerage Associates; Garry Holmes, president R.W. Holmes Realty Co., Inc.; and Dave McLaughlin, WeWork.
Fourth panel - multifamily market: moderator Gregory Vasil, CEO, Greater Boston Real Estate Board; Harold Brown, chairman and CEO, The Hamilton Company; Ed Zuker, CEO, Chestnut Hill Realty; Tim Thompson, sales manager, Marcus & Millichap; and Wayne Kucharski, senior VP Brickpoint Properties, Inc., New England CCIM Chapter president.
All of the panel discussions were very informative and entertaining.
We would also like to congratulate Harold Brown CEO of The Hamilton Company for receiving a proclamation from the City of Boston and Commonwealth of Mass. for his contributions to The West End House.
Don't miss our December 10 Boston's Real Estate Development Summit at the Crowne Plaza Newton, for more information contact Rick Kaplan at [email protected] or call 781-878-4540.