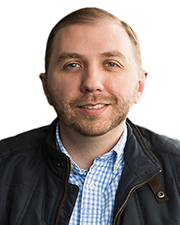 Year you entered your current field? 2007
What do you consider to be your greatest professional accomplishment in the past 12 months? Within the last 12 months, a successful turnover of an award-winning historic rehabilitation project and the start of another.
What advice can you offer to someone who is interested in a career in your industry? Get started in any industry you can. Start at the bottom, and learn from your mistakes. Mistakes will happen so you have to learn from them to avoid repeating them. Make good connections and make them often. Depending on your industry, you are bound to run into those connections again.
If you have a mentor, who is it and how have they influenced your personal & professional growth? I've had several mentors throughout the years. Some have helped me develop and understand my current work practices. Some have helped me better manage my work/life balance. All have provided opportunities to better myself.
How have your life experiences impacted who you are professionally? Realizing early on that success is not handed to you. You need to put yourself out there and work for it. There will be struggles and it will be tough, but perseverance will get you through.