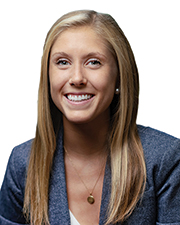 What are you most looking forward to post-pandemic? Being able to network and socialize with other members of the construction industry and my fellow ARCO team.
How have you adapted and changed in the last 12 months? I had to change gears and adapt to working in the fast-paced construction industry after graduating college in the Spring of 2020. ARCO provided me with the tools and resources I needed to learn and grow into my new role as a project manager. Since then I have had the opportunity to be part of several teams and successful projects that have provided me with valuable experience and expanded my knowledge base greatly in such a short period of time.
What steps have you taken to ensure the continued success of your firm? ARCO prioritizes the customer service we provide. We strive to go above and beyond our clients' requests, and I have made it a personal goal to ensure the clients I work with enjoy the construction experience throughout their projects.