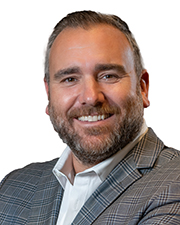 What recent project, transaction or accomplishment are you most proud of? I'm most proud of the development and growth of our property management platform over the past 6 months. We've been able to add over 500,000 s/f of additional property management assignments with new property owners that include small family offices, local owners and developers, large institutional clients, and special servicers. We've also been able to expand our platform's footprint beyond Greater Boston into New York and South Carolina, while maintaining that boutique, personal attention to each property.
What does it take to succeed in your specific industry? This industry is all about common sense, fostering relationships, having an owner's mindset and providing impeccable service to your clients, partners and tenants. Great property and asset managers surround themselves with the best vendors, contractors and support staff to help their companies succeed. You must consistently and routinely communicate with your existing clients, potential clients, tenants and vendors to ensure that issues are being proactively managed, that your execution aligns with the property owners' vision, and that your pipeline for new business remains full. Last, and certainly not least, always do your best…there are no shortcuts.
What are the top 3 items on your bucket list?
Travel to the Maldives
Write a book
Play Augusta National
What are you doing when you aren't working? Golf, traveling, concerts and whatever my wife/daughters tell me to do!