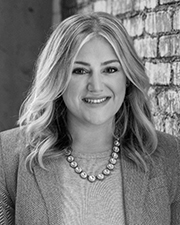 Number of years at firm: 4
One thing on my bucket list: Going on a safari.
When I am not working, I am: Traveling and experiencing different cultures, exploring Greater Boston with my dog and trying new restaurants with my husband.
What recent project, transaction or accomplishment are you most proud of? In 2021, I earned the opportunity to manage Van Ness, a 170,000 s/f residential property located in the heart of the Fenway neighborhood. Over the past two years I have successfully navigated the many challenges that come with managing a property of that size, including working with a large internal team and S&A's financial partners and stakeholders, overseeing all the building and tenant operations, and mitigating potential risks. This has been a rewarding opportunity, which has created new leadership and professional experiences in a challenging time.
What makes this nominee a RISING STAR?
"In her role, Paige utilizes her strengths and applies them in her leadership strategy. She is a strong presence in the Boston real estate community and is a part of CREW, NAIOP and multiple other industry organizations. Paige has also been instrumental in recruiting new emerging talents to S&A." - Andi Simpson, Senior Vice President of Marketing, Samuels & Associates