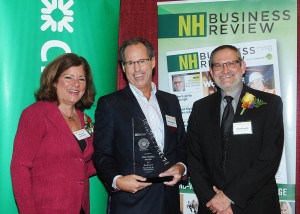 PROCON
; Jeff Feingold, McLean communications editor. Photo credit: Jodie Andruskevich, Andruskevich Photography" width="300" height="214" /> Shown (from left) are: Sharron McCarthy, McLean Communications publisher; Mark Stebbins,
PROCON
; Jeff Feingold, McLean communications editor. Photo credit: Jodie Andruskevich, Andruskevich Photography
Manchester NH On October 20, PROCON was honored with the 2015 Business Excellence Award for a large company in Real Estate and Construction by NH Business Review. Nearly 300 of New Hampshire's best and brightest business and civic leaders attended the 13th annual gala at the Radisson Hotel in Manchester.
"It is an honor to receive this award that I accept on behalf of all my employees who have worked hard to make PROCON the company it is today," said PROCON chairman and CEO Mark Stebbins. "We are so proud to be doing business in the great State of New Hampshire and being able to make a difference in our local communities."
Stebbins believes in having a positive impact on the community by generously donating to charities including Granite United Way, Child and Family Services, Easter Seals, Manchester YMCA, Manchester Boys and Girls Club, among others. PROCON leadership and employees feel that it is a privilege to be able to help those less fortunate in the local community and know that it can positively change the lives that have been touched by these organizations.
NH Business Review Business Excellence Awards is an annual recognition of the initiative, creativity, and determination of Granite State businesses.
Award nominations were selected by a seven-judge panel and determined based on industriousness, innovation and vision, achievements and community involvement.
PROCON's fully integrated in-house design-build team grew from humble beginnings of constructing single-family homes with an annual revenue of under $5 Million in 1935, to now a large commercial design and construction firm with annual revenues of over $200 Million. PROCON's 180 employees, including 60 architects, designers, and engineers, specialize in commercial, hospitality, institutional, industrial, athletic, aviation and multi-family residential projects throughout the Northeast, from NY to Maine. Celebrating 80 years of business, PROCON is highly regarded for its single-source philosophy and commitment to client success that has resulted in 95% repeat business.