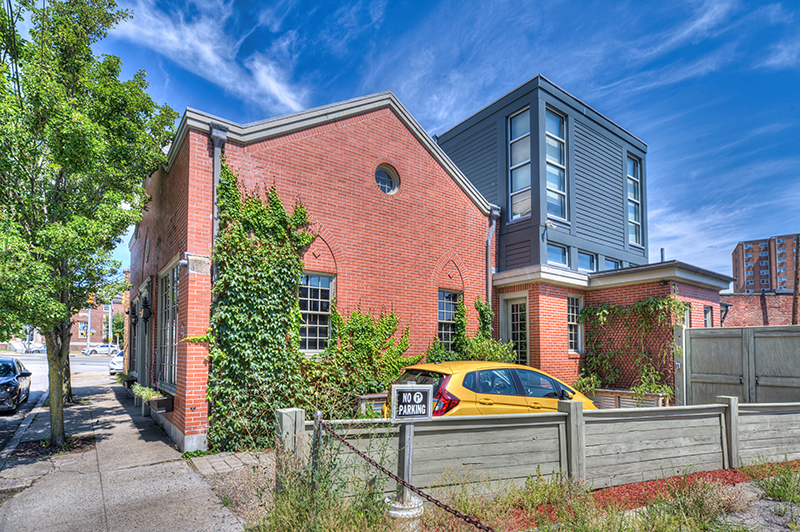 Pawtucket, RI Residential Properties Ltd. negotiated the sale of 9 Montgomery St. for $890,000. RPL sales associate Paula Morrison represented the buyer as the selling agent.
Once featured in Architectural Digest, this historic, stand-alone brick building was once home to the U-Pic shoe store, and before that, it served as the Pawtucket Progressive Spiritualist Lyceum, a meetinghouse for those who sought to communicate with departed souls. That was before it was purchased by academic historian and art & antiques dealer, Richard Kazarian. Born and raised in Pawtucket, Kazarian purchased the abandoned shoe store and then, along with the help of designer Julie Clifton and the technical support of the Providence architectural firm Yoder + Tidwell, he transformed the building into an ideal live/work space.
Today, the home features soaring ceilings, a pyramid skylight, custom finishes, and a gorgeous chef's kitchen with marble and zinc countertops. There's even a built-in, retractable 13-foot projector screen for cinema-grade viewing. Outside is a lovely fenced-in yard, complete with custom planters and a relaxing hot tub.
As part of The Morrison Group, Paula Morrison has been a multimillion-dollar producer, receiving the Greater Providence Board of Realtor 2021 Circle of Sales Excellence Platinum Award.