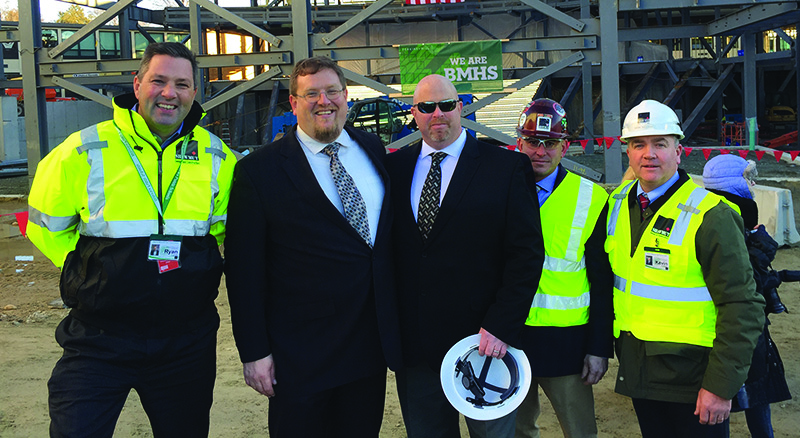 Billerica, MA Construction management firm Shawmut Design and Construction, design firm Perkins+Will, and project manager LeftField, joined the town for the topping-off ceremony of the new Billerica Memorial High School.
Set to open in fall of 2019, the new 325,000 s/f school is designed to accommodate 1,600+ high school students from grades 8 through 12 as well as a 200+ student pre-K program. The new facility will feature a 700-seat auditorium and progressive academic spaces consisting of STEAM classrooms, media commons, a career center, and maker spaces.
The next phases of construction will include installing multi-sport turf fields complete with a 1,600-seat bleacher concourse which are expected to be completed in the fall of 2020.
The new school is designed to emulate modern workplaces, creating more flexible and collaborative ways of teaching and learning across disciplines. Individual spaces can easily be repurposed, and classrooms support larger scale reconfiguration to allow for future teaching pedagogies.
"It has been a privilege working with such forward-thinking leaders in Billerica to develop a vision for a collaborative, future-ready learning environment that will prepare its students for success in the world," said Brooke Trivas, principal and K-12 leader at Perkins+Will. "But it is the true partnership with Shawmut, LeftField, and the town of Billerica that will make this vision a reality."
"We're proud to be part of such an important, collaborative development in the Billerica community," said Kevin Sullivan, vice president at Shawmut. "It has been a particularly significant experience partnering with Perkins+Will and LeftField to involve Billerica High School engineering design students in the process, and our team has enjoyed meeting with them regularly to make them active participants in realizing the vision for their future facilities."