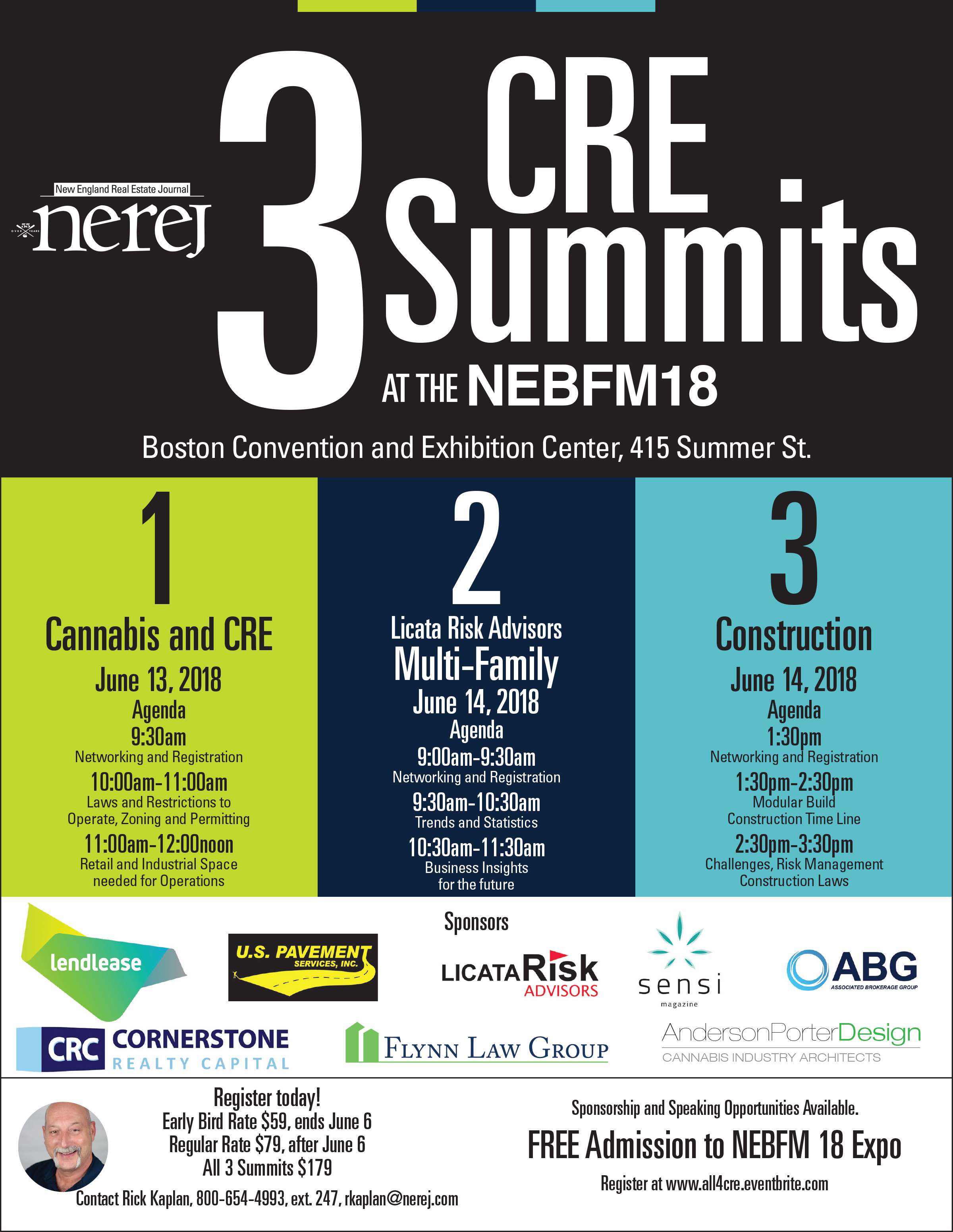 Boston, MA The New England Real Estate Journal (NEREJ) will hold 3 CRE Summit, June 13-14, at the Boston Convention Event Center during the NEBFM2018 expo.
Save $40 and get the $59 early bird ticket rate. To attend please register at: For the Cannabis in CRE June 13 https://necannabis.eventbrite.com, For Construction in CRE June 14 https://construction.eventbrite.com, For MultiFamily CRE https://nemultifamily.eventbrite.com. Tickets on the day of the show at the door are $99 each.
The first panel on June 13, "Cannabis companies finding city and towns approval, licensing, legal issues working with real estate owners seeing new opportunities in the Cannabis Industry," will begin at 9:30 a.m. The second panel "How does the new Cannabis law effect commercial real estate," will start at 10:30 a.m. Networking with speakers and real estate professionals will start at 11:30 a.m.
On June 14 at multifamily summit will begin at 9:30 a.m. with panel one discussing planning projects, construction, tenant/landlord legal rights. At 10:30 a.m. panel two will discuss financing, insurance risk, market trends.
From 11:30 a.m. -1:30 p.m. enjoy the NEBFM2018 expo.
At 1:30 p.m. the construction panel will discuss insurance risks, construction trends, legal issues in a construction project, skilled and unskilled labor issues.
Over 100 professionals are anticipated to be in attendance including investors, bankers, brokers, lawyers, developers, builders, property managers, insurance agents and service and suppliers.
Sponsors of this 3CRE Summits at NEBFM2018 include corporate sponsors: Flynn Law Group, National Grid, ABG Commercial Real Estate, Licata Risk Advisors, LendLease, U.S. Pavement and Cornerstone Realty Capital. The media sponsor is Sensi Magazine.
NEREJ has 18-20 Summits a year in Massachusetts, Northern New England and Connecticut and NY. Watch for upcoming summits in 2018.
For more information to be a speaker, sponsor or attendee please contact Rick Kaplan at [email protected] or 781-878-4540 x247.