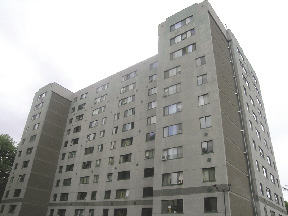 Before: Decker Towers, 230 St. Paul Street - Burlington, VT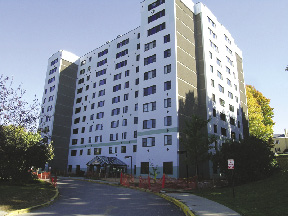 After: Decker Towers, 230 St. Paul Street - Burlington, VT
Exterior Designs, Inc. has recently completed a major exterior renovation of the tallest standing building in Vermont. Decker Towers, located at 230 St. Paul St., is 11 stories high and holds more than 160 units. The building was built in 1971 and purchased by the city. Currently, it is owned and operated by the Burlington Housing Authority.
The renovations included the removal of more than 550 aged windows and replacing them with new energy efficient units. In conjunction with the window replacement, 33,000 s/f of EIFS was enhanced by increasing the thickness of the insulation and applying a new exterior top-coat to give the 1971 building an updated appearance.
The challenges of a project like this were combined with an aggressive schedule. In addition, the building was fully occupied and functioning for the entire duration of the renovations. Exterior Designs, Inc. accommodated the tenants and the BHA given the special circumstances of this project managing to finish ahead of schedule.