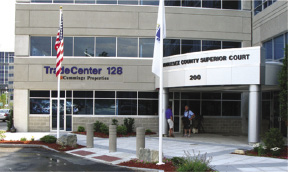 Middlesex County Superior Courthouse at TradeCenter 128, Woburn, MA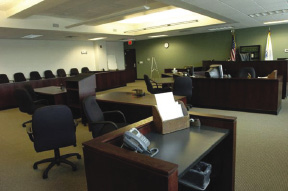 Middlesex County Superior Courthouse at TradeCenter 128, Woburn, MA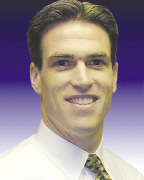 Dennis Clarke, Cummings Properties
The Commonwealth of Mass. has extended its lease for the Middlesex County Superior Courthouse at TradeCenter 128 for a seven-year term. This renewal comes five years after the court moved from the Edward J. Sullivan Courthouse in Cambridge, which was in need of renovations and has since been slated for redevelopment.
Cummings Properties
was represented by Ernie Agresti, vice president administration.
Cummings Props. custom built the 139,000 s/f space for the court in 2007, during the first phase of construction of the now nearly 700,000 s/f TradeCenter 128 business park. The courthouse features 15 courtrooms, clerks' offices, judges' chambers, the probation department, and the law library, as well as a dedicated sally port and secured, covered parking for judges.
Cummings Props. president and CEO Dennis Clarke said, "It has been our pleasure to provide the Court a modern, first-class facility. The on-site amenities, free parking, and highway location, combined with Woburn's centrality within Middlesex County, make this site convenient and appealing for the staff as well as the many other Massachusetts residents who visit the Court."
TradeCenter 128 fronts the highway, less than two miles from its intersection with I-93. It is also accessible by public transit, with MBTA bus route 134 delivering passengers directly to the campus from Wellington Station via Medford, Winchester, and Woburn.