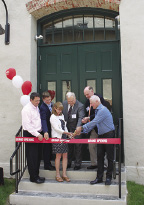 Shown first row (from left) are: Shane Brady, Brady Sullivan Properties; Roberta Randall, R.I. Historic Preservation and Heritage Commission; and Chris Starr, Starr Development Partners. Shown second row (from left) are: Arthur Sullivan, Brady Sullivan Pr
On June 25th, Starr Development Partners and Brady Sullivan Properties hosted a grand opening for the newly renovated Harris Mill Lofts. Tom Hoover, Coventry town manager, cut the ribbon at the event.
The ribbon cutting ceremony was followed by tours of the historic property located at 618 Main St. The Coventry town official was joined by state officials, as well as the multitude of business people responsible for the completion of the project.
"We are proud to bring another mill loft community to the town of Coventry," said Arthur Sullivan, principal of Brady Sullivan properties. "Breathing new life and energy into the historic Harris Mill Lofts is a property that we take great pride in, given the scale and scope of the project. The focus throughout was to retain the historical integrity of the property, while transforming it into elegant livings spaces that embody the modern lifestyle."
This event was the culmination of the renovation project that was the combined effort of Starr Development Partners and Brady Sullivan Properties. A fixture in Coventry since 1850, Harris Mill has been recreated into more than 150 loft apartments. Working closely with the R.I. Historic Preservation & Heritage Commission, the real estate developers were careful to retain the mill building's original brick and stucco façade, as well as its signature brick and beams, soaring ceilings, oversized windows, and wood flooring.