Boston, MA ASM wants to thank ASM member, Mike Boyle of Boyle Construction Safety Services, LLC, for his longtime service as the ASM Safety Roundtable chair. In this role, Boyle coordinated the ASM Safety RoundTable with our long-standing Alliance Partners from OSHA and the Massachusetts Department of Labor Standards, identifying speakers and content for members to attend free of charge for more than 10 years.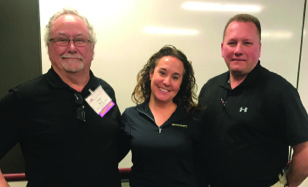 While Boyle's contributions will be missed, ASM is pleased to welcome Eric Stalmon and Valerie Stone as the new Safety Roundtable co-chairs effective immediately. Eric Stalmon is the vice president of safety and training for The Marr Companies in Boston. He is responsible for providing support for all company safety programs, as well as providing training and education. Valerie Stone is the safety director for TG Gallagher located in Cambridge. TG Gallagher is committed to ensuring the safest possible work environment and places the highest value on individual welfare.
"On behalf of ASM staff and members, I want to thank Mike for his many years of dedicated service," said Carrie Ciliberto, Esq., ASM's CEO. "His efforts helped not only ASM, but also the construction industry as a whole, as safety is a critical issue for all stakeholders. ASM is very fortunate to have two leading safety professionals to take over the helm of ASM's Safety Roundtable."
Both new co-chairs look forward to continuing the exceptional programming of the past, as well as reaching out to ASM members for feedback on new and interesting future safety programs.