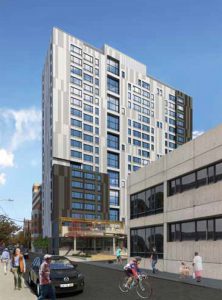 Frank J. Manning Apartment - Cambridge, MA
Cambridge, MA Tecogen Inc. working in conjunction with VAV International of Woburn, Mass. and the Cambridge Housing Authority (CHA) developed an efficient clean power system for the Frank J. Manning Apartment building. Using Tecogen's reliable natural-gas engine driven CM-60 kW combined heat and power (CHP or cogeneration) unit, the 19-story high rise will enjoy a significant reduction in utility bills while cutting the building's energy-related carbon footprint in half.
Built in 1976, the 199-unit housing development for elderly and disabled residents originally included what were considered the most efficient and cost effective systems at the time. With significant improvements made in building design and energy efficiency, the Manning Apartment systems have become obsolete. As a result, a full building redesign, including installation of the efficient Tecogen cogeneration system, was launched in November 2015 with funding from HUD and MassDevelopment.

Frank J. Manning Apartment - Cambridge, MA
The project includes common area improvements, exterior renovations and core building systems improvements. Part of the building systems upgrades, the cutting-edge Tecogen CM-60 CHP unit will provide electricity to the building, significantly reducing the facility's electric bill. As an added bonus, waste heat from the electric engine will be recovered and used to provide heating and hot water to the apartments, helping to replace the old electric baseboard heating system with efficient gas-fired heat.
"System upgrades like the ones being implemented at Manning Apartments carry a lot of initial upfront sticker price shock. The key in evaluating these projects is to consider the long term savings generated by energy efficiency initiatives. When you weigh those savings it's clear that projects like these, including installing cogeneration, pay for themselves – and are a logical choice for building managers," said Benjamin Locke, Tecogen co-CEO.
The planned scope of improvements at Manning Apartments includes a dramatic transformation of the building's energy consumption to provide a healthier living environment for both the residents and the surrounding community. Upon completion the project is estimated to achieve a 30% site energy reduction, over $260,000 in annual savings in energy costs, and a 50% reduction in water consumption – qualifying Manning Apartments as a certified Enterprise Green Communities development.
Tecogen Inc. designs, manufactures, sells, installs, and maintains high efficiency, ultra-clean, cogeneration products including natural gas engine-driven combined heat and power, air conditioning systems, and high-efficiency water heaters for residential, commercial, recreational and industrial use. The company is known for cost efficient, environmentally friendly and reliable products for energy production that, through patented technology, nearly eliminate criteria pollutants and significantly reduce a customer's carbon footprint.