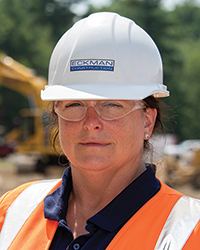 Bedford, NH Eckman Construction welcomed back Julianne Cardinal in the role of project superintendent. Cardinal originally joined the Eckman team in 2000 and worked on projects with budgets as large as $44 million. She eventually rose to become a superintendent before she left to continue her career with another firm in 2010.
"We are so excited to have her back," said John Deloia, vice president of Eckman. "To have someone with Julianne's experience want to come back is huge for us. It validates the constant focus on building an atmosphere of employee satisfaction and success."
Cardinal grew up around construction through a family business, and says she began learning site-work at the age of nine. Her professional experience, resume of work, and a degree in civil engineering from UNH make her a valuable asset in the field, where she has made an impressive impact.