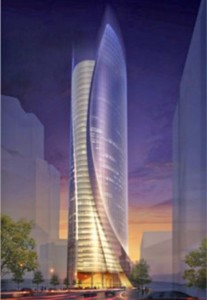 Rendering of Government Center building - Boston, MA
Boston, MA National Real Estate Advisors (National) and The HYM Investment Group (HYM) won final approval for two towers on the site of the Government Center Garage, the first phases of a six-building, $1.5 billion redevelopment plan to replace the 1960s-era brutalist garage. The project will include housing, offices, a hotel, retail and other public amenities, including bringing daylight to a block of Congress St. for the first time in half a century.
Following years of planning, design, and extensive meetings with local residents, the Boston Redevelopment Authority board of directors unanimously approved:
• A 480-foot, 486-unit luxury apartment building – which will be the tallest rental housing in the city once complete. The building, an elegant design by CBT, is expected to break ground in the Spring along New Sudbury St. and will have unrivaled 360-degree views of the city, from the Charles River to the Atlantic Ocean, and the Blue Hills to Nahant.
• A 43-story, one million s/f iconic office tower, designed by Pelli Clarke Pelli architects with a sweeping glass exterior. The building is one of the only fully permitted, shovel-ready commercial towers in the city and will commence construction upon commitment by a major tenant. The project team is being represented by Transwestern|RBJ.
Both buildings are targeting LEED Gold environmental certification.
At full buildout, the project will include 812 residential units, 196 hotel rooms, 1.1 million s/f of office space, and 85,000 s/f of new retail that will activate the area and complement the adjacent, established surrounding neighborhoods.
In addition to the two approved towers, HYM and National are planning three modest-scale buildings surrounding a new public plaza on the eastern side of the parcel, abutting the Rose Kennedy Greenway, including a hotel-and-condo building, a boutique office, and a multi-story retail space, reestablishing a prominent central gathering point in downtown near old Haymarket Sq.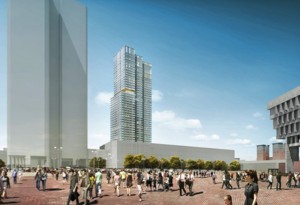 Rendering of Government Center building - Boston, MA
A sustainable and transit-oriented redevelopment, the project is centrally located, two blocks from North Station and Storrow Dr., next to I-93, and integrated with the MBTA's Haymarket Station, including Green and Orange Line trains. The project will feature a one-acre green roof deck, an unmatched amenity in the city, and will have the largest area for bicycle storage and meeting cyclists' needs of any location in the city.
Once construction starts on the office tower, the existing garage will be demolished, including the prominent section that spans Congress St. and all floors extending east over the Haymarket MBTA Bus Station.  Approximately 1,100 parking spaces of the existing 2,300 car garage will be retained, enveloped by the office tower and two residential buildings at project completion. This reconfigured garage will provide parking for the new development as well as daily parking, overnight resident parking and event parking.
"We are humbled by the historic opportunity that this project presents," said HYM founding partner and managing director Thomas O'Brien. "This project will reconnect four of Boston's greatest neighborhoods – the North End, the West End, Beacon Hill and Downtown–that have been divided by this hulking concrete structure for decades.  This area of Boston is undergoing a tremendous positive transformation, all of which are accelerating, including transit improvements, the Greenway, and the new Boston Public Market.  We also have beautiful Back Bay and Harbor views as well as proximity to Massachusetts General Hospital, Kendall Sq. and the Financial District."
National Real Estate Advisors' president and CEO Jeff Kanne said, "This redevelopment exemplifies National's commitment and dedication to enhance cities, create jobs, and generate returns for our investors in modern, vanguard assets."
National Real Estate Advisors has $2.5 billion in net assets under management invested in commercial and multifamily real estate valued at $7.4 billion (as of 9/30/15). Through its open-end fund and separate account for pension fund clients, the company invests in major U.S. urban markets, using a build-to-core strategy in large-scale development and redevelopment projects. National builds investment portfolios of stabilized modern property assets—apartment, office, mixed-use, industrial, data centers and hotels—with design features, technological enhancements, and amenities that can drive high tenant demand and create value over time. Utilizing its wholly-owned affiliate, National Real Estate Development LLC, the company also directly develops major projects for client accounts and partners. The firm is a subsidiary of the National Electrical Benefit Fund.
The HYM Investment Group, LLC is a Boston-based real estate company focused on the acquisition, development and management of complicated urban mixed-use projects.  HYM is currently leading the development of over 9 million s/f of mixed-use development in Greater Boston, including the following notable and complex projects: Government Center Garage Redevelopment, Boston Landing, and NorthPoint. HYM is focused on creating significant value for investors by recognizing real estate opportunities where others may not.  Each real estate asset is treated as a unique business opportunity, and each asset plan seeks to cause the real estate to reconnect, energize and enhance the urban communities of which it is a part. For more than 35 years HYM's principals have been working on real estate ventures in the Boston, New York and Washington, D.C., corridor.