Boston, MA
Columbia Property Trust, Inc. has completed the assessment and certification of all properties in its 12.3 million s/f office portfolio (except for certain buildings that are triple-net-leased or targeted for sale) in the WiredScore Wired Certification program, the nation's preeminent program that rates and recognizes the infrastructure, technology and connectivity of office buildings.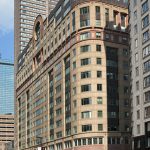 116 Huntington Avenue - Boston
In Boston, the 271,000 s/f 116 Huntington Ave. has achieved certification. The property is 78% leased and tenants include American Tower Corp., GE Healthcare, and Brigham and Women's Hospital.
JLL
is the property manager and Newmark Grubb Knight Frank is the leasing agent for the 15-story Back Bay office tower. Among Columbia's portfolio, fifteen buildings have received Silver Wired Certification, six have received the higher Gold Certification level, and two have achieved Platinum Certification, the highest Wired Certification rating possible, for best-in-class internet infrastructure. "These certifications provide our tenants – both current and prospective – a clear picture of how well our buildings can meet their connectivity needs," said Nelson Mills, president and CEO of Columbia Property Trust. "We are proud to have achieved Silver or higher certification across our entire portfolio and believe that assessing our properties through the WiredScore program was an important step in ensuring that our buildings can meet the changing and increasing technology demands of leading corporate tenants." "Connectivity speed and access are critical to business operations, and our participation in the WiredScore program is another way that we can ensure our tenants have the level of service and infrastructure they expect from our best-in-class, Class-A office buildings in leading U.S. markets," said Kevin Hoover, senior vice president of portfolio management for Columbia. WiredScore is the pioneer behind the international Wired Certification standard that evaluates and distinguishes best-in-class internet connectivity in commercial buildings. In order to award Wired Certification, WiredScore collects information about a property's internet connectivity and infrastructure, and then rates and benchmarks it. The connectivity features used to determine each property's rating include: the number and quality of internet service providers, redundancy and resiliency of telecom infrastructure, ease of installation, and capacity to readily support new telecom services. "Strong internet connectivity has never been more critical to tenants seeking new office space," said Arie Barendrecht, CEO and co-founder of WiredScore. "Forward-thinking building owners like Columbia Property Trust are now offering high-quality tech capabilities to attract the world's leading businesses to their properties. By providing a comprehensive resource on connectivity for landlords, brokers, and tenants alike, Wired Certification offers unprecedented transparency into a building's tech infrastructure and makes it easier than ever to market these features." All office properties owned by Columbia have received Wired Certification, with the exception of three triple-net-leased assets for which the tenant declined to participate and four properties that are being marketed for sale.