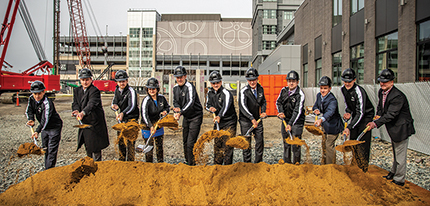 Somerville, MA Federal Realty Investment Trust (FRT) celebrated the launch of construction on 455 Grand Union Blvd. at Assembly Row with Somerville mayor Joseph Curtatone and PUMA North America CEO Bob Philion. PUMA has signed a lease for 150,000 s/f to anchor the new 300,000 s/f retail and office building as the company's North American headquarters. This celebration marks the launch of Phase 3 of the development, which also includes a new 24-story, 500-unit apartment building with ground floor retail space, across from the Assembly Sq. MBTA T station.
Beyond Phase 3, Federal Realty has five more acres of developable land that has been entitled to accommodate up to 1.5 million s/f of office and/or lab development.
At completion of Phase 3, Assembly Row will include over 55 shops, 22 restaurants, 1,514 residential units, over 1.1 million s/f of Class A office space, and The Row Hotel, a 158-room Marriott Autograph Collection Hotel, which opened in 2018.
"PUMA, a worldwide leading sports brand, sees the long-term value of the transit-oriented Assembly Row experience and the city's creative energy, as well as the amenity-rich location," said Patrick McMahon, senior vice president, regional development for FRT. "We look forward to collaborating with both the city and PUMA and welcoming more like-minded companies to this destination campus environment."
As part of Federal Realty's partnership with the city, Phase 3 is expected to generate 600 construction jobs and 900 permanent office jobs. In addition to annual taxes, the project will yield $5.6 million in building permit fees and the contribution of $12 million over the next several years to the creation of affordable housing in the city.
Designed by Jacobs, the 13-story Class A office building with 550 dedicated parking spaces and approximately 25,000 s/f of ground floor retail will be home to PUMA North America's new headquarters. PUMA is expected to occupy 455 Grand Union Blvd. in early 2021 with 450 employees relocating from its current offices in Boston and Westford, Mass. 455 Grand Union Blvd. is now under construction and over 50% pre-leased. Cranshaw Construction is the general contractor and Copley Wolff Design Group is the landscape architect for the project. The neighborhood's existing office space at 450 Artisan Way is 100% leased. Additionally, Partners Healthcare is headquartered at Assembly Row with 730,000 s/f of office space.
"We're excited to have officially broken ground on the new headquarters of PUMA North America," said Bob Philion, president and CEO of PUMA North America. "We're confident that our new Assembly Row location will help us bolster PUMA's presence in North America. We look forward to becoming an integral part of the Somerville community and taking advantage of everything this vibrant city has to offer our employees.
Shown (from left) are: Patrick McMahon, SVP, regional development, Federal Realty Investment Trust; Matt Ehrie, VP, regional portfolio manager, Federal Realty Investment Trust; Adam Petrik, global director of brand and marketing, PUMA; Katjana Ballantyne, councilor, Ward 7 and council president, Somerville; Bob Philion, president/CEO PUMA North America; Joseph Curtatone, mayor, Somerville; Don Wood, president and CEO, Federal Realty Investment Trust; George Proakis, executive director, Office of Strategic Planning and Community Development, Somerville; Tom Galligani, director of economic development, Somerville; Brad Dutton, V.P. regional construction, development, Federal Realty Investment Trust; and David Middleton, general manager, Assembly Row.