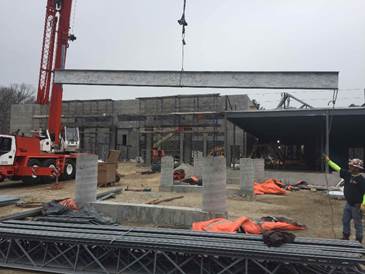 Plainville, MA CTA Construction has completed the "topping off" of what will be become the new public safety building, part of a two-structure project that broke ground in August 2017. The term "topping off" refers to the point in a building's construction where the steel frame is fully built out and work transitions over to connecting the frame with interior and exterior infrastructure. Together with a new town hall, which was topped off several weeks ago, the structures represent the first public buildings in Massachusetts to be funded in part through casino gaming revenues.
Town officials selected CTA Construction as the general contractor for the $27 million project after a competitive bidding process. Elected officials and CTA Construction staff were joined by members of the Mass. Gaming Commission last year for the groundbreaking ceremony.
The architect is Kaestle Boos Associates Inc.
The new public safety building will collect the town's police, fire, and emergency medical services under one roof- a shift that many towns and cities are beginning to adopt due to its propensity to reduce both costs and emergency response times. Services share resources and a common dispatch center, and can more easily and quickly communicate than under separate headquarters. The new public safety building is expected to be 43,527 s/f, on the site of the former Wood School on South St., which closed several years ago when a new Wood School was built on Messenger St.
The new town hall will replace the existing facility, which town officials have described as too small and cramped for the variety of functions expected of it. Upgrading it will create more meeting space for public hearings, work space for town employees, and amenities to make the building handicap-accessible. The current town hall was built in 1938 and, at 5,000 s/f, can only accommodate 11 people in the selectmen's meeting room. The new town hall is expected to be 21,359 s/f.
"With the topping off of the new Public Safety Building, we have completed the exterior frame work of both buildings and can begin filling them out" said Jeff Hazelwood, principal at CTA Construction. "This is an ambitious project and one we're excited to be delivering to the people of Plainville."