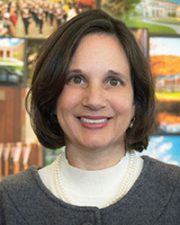 Glastonbury, CT Tanya Cutolo, AIA, LEED AP, director of business development at S/L/A/M Construction Services (SLAM CS), was elected to the Connecticut Green Building Council (CTGBC) board for the 2018-2020 term. The CTGBC, the Connecticut Chapter of the United States Green Building Council, is tasked with transforming the way buildings are designed, constructed and operated to ensure more environmentally and socially responsible, healthy and prosperous buildings and communities. The CTGBC hold a series of workshops on green building topics, networking opportunities, membership meetings, educational forums, and seminars on green buildings.
Cutolo has worked in the private sector as an architect for more than 17 years and in the construction field for more than eight. Cutolo has been a business development manager and director for construction and design build services since 2008. She earned her master's degree in architecture from Tulane University. Additionally, she has chaired the CTGBC healthcare committee and served on the CT AIA Committee on the Environment (COTE).
"I am very honored to have been elected to serve on the CT Green Building Council's board of directors." said Cutolo. "I look forward to promoting the mission of the Council and sustainable design and construction education in the state of Connecticut."
S/L/A/M Construction Services (SLAM CS), a subsidiary of The S/L/A/M Collaborative is a full-service construction management company specializing in owner's representative, pre-construction, construction management and design-build services for the independent education, healthcare and corporate markets within the New England region. The S/L/A/M Collaborative formed S/L/A/M Construction Services in 1996 to provide their clients with a single point of responsibility for the design and construction of their projects. This unique practice of architects, engineers, and construction professionals provides clients with seamless continuity from design into construction. S/L/A/M Construction Services has established a solid reputation by offering comprehensive construction services for every phase of the project from planning to design to build.