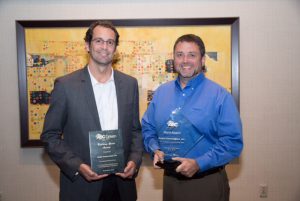 Shown are Jake Simmons, CEO of Delphi Const. and project executive, Larry McHugh
Boston, MA The Massachusetts Chapter of Associated Builders and Contractors congratulated Delphi Construction, Inc. for receiving the Merit and Green Awards at the 24th annual Excellence in Construction Awards for their outstanding work on renovating The Cathedral Church of St. Paul located at 138 Tremont St.
Over 200 ABC members gathered at the Westin Waltham Hotel to recognize and celebrate the very best construction projects its companies have to offer. This year's applicant pool was particularly competitive, with each award winner selected for their high standards of craftsmanship, safety and quality that results from capitalizing on the talents of merit shop workers and the efficiency of the merit shop approach. "Our companies are committed to providing the highest quality of work in a safe and efficient manner," said ABC Mass. president Greg Beeman. "Tonight is a great night to recognize their achievements and celebrate the merit shop construction industry as a whole."
  The Merit Award recognizes overall excellence in project execution, craftsmanship, safety, innovative elements and challenges, and client satisfaction. Delphi Construction, Inc. took home the Merit Award for its work on The Cathedral Church of St. Paul, completing 20,000 square feet of interior renovations and exterior improvements, including a glass elevator surrounded by a stone staircase, a spectacular new stone floor over radiant heat and a 30-foot skylight room above the main worship space to reintroduce natural light after centuries of encroaching construction. When removal of pews and flooring revealed extensive cracking, the solution was to install a new structural slab over the existing structure using a concrete mix design never used in the northeast. Interior renovations required the meticulous cataloguing, removal and protection of more than 5,000 organ pipes ranging in size from 2' to 30'.
ABC Mass. is the largest construction trade association in the Commonwealth, representing some 400 local general contractor, subcontractor, and supplier and associate companies.  These companies employ more than 20,000 workers throughout Massachusetts.