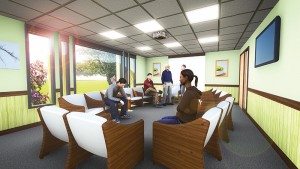 Harrington HealthCare, Webster, Mass.
Webster, MA The DiGiorgio Associates Inc. (DAI) and Monitor Builders Inc. (MBI) team is working with Harrington HealthCare on an outpatient behavioral health counseling project and an inpatient psychiatric unit.  The estimated construction cost for these projects is $3.2 million with an estimated completion of October 2016.
There are two adult programs: Partial Hospitalization Program (PHP) and Intensive Outpatient Programs (IOP). The former is 6-hour long day program; the other is a 3-hour program.  For the inpatient psychiatric unit, there will be 16 inpatient beds.
Southern Worcester County, like many areas, suffers from a lack of inpatient psychiatric services, and a 14-bed unit at Harrington's Southbridge campus is the only inpatient psychiatric center in the region. The new inpatient facility will be the first in Central and Western Massachusetts to offer a specialty track for patients suffering from both mental illness and substance abuse.
As the Opioid addiction crisis affects the nation, this expansion of behavioral health services is a direct response to the needs of the community.  Harrington's focus is on prevention, following an important Anti-Opioid bill recently passed allowing patients in Massachusetts to request a lower dose of pain relievers after injury, surgery, etc., to help reduce the risk of addiction.
The goal is to address anxiety, depression and other mental health issues earlier so that the likelihood of self-medicating is decreased. Colors and lighting were selected to create a soothing atmosphere and flooring was selected for safety, maintenance, sustainability and comfort.  The layout was designed to optimize sight lines between staff and patient areas and to minimize travel distances for staff.
DiGiorgio Associates Inc. is a full-service architecture, engineering and interior design firm headquartered in Boston with a satellite office in Portland, ME. Along with Monitor Builders Inc., DAI's construction affiliate, the team has performed over one hundred healthcare projects using the design/build, integrated delivery, methodology over the past 25 years, including multiple projects for Harrington HealthCare.