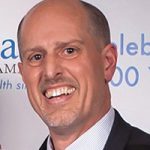 Scott Knightly, EnviroVantage
Boston, MA According to the National Demolition Association (NDA), Scott Knightly of EnviroVantage in Epping, N.H., has been elected the new president of NDA for the 2017-2018 term. NDA is the leading association for demolition professionals, representing more than 600 demolition companies throughout the United States and Canada. 
Knightly joined the NDA in 2005.  In 2007, he was elected to the board of directors, serving in all key executive roles prior to his election to president January 31, at the annual business meeting held at the Demolition Convention & Expo in Las Vegas.
"I look forward to serving NDA in my new role as president." said Knightly. "Having served on the board of directors for the past 10 years in various positions, as president, it is my intent and goal to continue the organization's forward progress by developing a stronger and deeper membership base so more demolition professional can utilize all that NDA has to offer. I look forward to working with the Board of Directors and membership to further NDA's position in the demolition industry."
NDA is a non-profit trade organization representing approximately 600 U.S. and Canadian companies and many international firms that are involved in the demolition process. Membership includes demolition contractors, general contractors, civil engineering abreast of environmental, regulatory and safety matters, keep regulators informed about issues facing the industry, increase public and industry awareness, and provide members with networking opportunities and information on the latest technical advances in equipment and services.