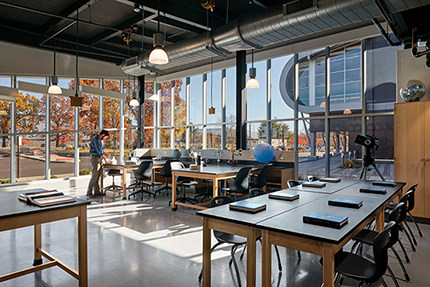 CREC Academy of Aerospace & Engineering - Windsor, CT
Windsor, CT The CREC Academy of Aerospace & Engineering design consists of four pods: Middle School, High School, Aerospace/Engineering, and Assembly.
This design uses a contemporary "airfoil" form to emphasize the Middle School façade. Concepts for the exterior materials were drawn from the Hubble Telescope's deep space photograph of the Lagoon Nebula and lunar landscape. Visible from Kennedy Rd., a zinc clad curved "wing" contains middle school science laboratories. A quarter barrel roof with an exposed trussed structure at the gymnasium references the design of an airplane hangar.
Inside, the way-finding concept is modeled after Bradley International Airport's airstrip, and the entry lobby showcases historic aviation models. The three-story main lobby accommodates a full-size replica of the Mercury Capsule, while the media center entrance overlooks one of the school's entrances to mimic NASA's "Mission Control."
Typical classrooms are a spacious 900 s/f, CLAB spaces include: Fabrication Lab, Manufacturing Lab, Aerospace CLAB, Engineering CLAB, Physics CLAB, Environmental Science, Chemistry CLAB, Biology CLAB and supporting project rooms, as well as storage and independent study spaces.
The high performance building contains advanced technology and cutting-edge equipment, photovoltaic louvers and a computerized building management system. Operable photovoltaic louvers are used on the South and East elevations to maximize sun exposure for energy collection reducing cooling costs. The building's overall energy usage and generation, as well as water consumption, are monitored by a building management system with the data displayed on televisions throughout school.
Awards:
• American School & University Magazine – Citation in Combined Level Schools
• 2016 Associated General Contractors, Inc. – Building Merit Award
• CREW CT - The Real Estate Exchange 2016 Blue Ribbon Awards – Best Educational Project
• CREW CT - The Real Estate Exchange 2016 Blue Ribbon Awards – People's Choice
In business since 1974 and located in Farmington, Friar Associates blends the art and science of architecture in developing successful buildings and related environments. Seeking valuable input from their clients, they believe open collaboration leads to responsive solutions. They use function, value and efficiency as the basis for designs that respect existing aesthetics while achieving creative solutions. They further address our clients' multiple and individualized needs by offering other services, such as master planning, code review and high performance building design.