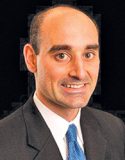 I am as old as the New England Land Title Association (NELTA), both of us being born in 1970. Over the years, NELTA has become the premier resource for education and industry information. NELTA has also become an important part of my life.
My service to this fine organization began at the 2010 Annual Convention at the Omni Mt. Washington Resort, where I participated in a multi-state panel discussion on Foreclosure Law. Present with me at the convention were my wife, my rambunctious two-year old son, and my infant daughter, along with plenty of toys, baby bottles, and diapers. As it pertained to both my presentation and my parenting, I hoped to do my best not to make a scene.
Later, I would have the high privilege of serving on NELTA's board of directors. In addition, my family and I have regularly attended NELTA's Annual Convention, consisting of three days of fun and professional development. I have said to my wife, "Some people go on office retreats, I guess we go on industry retreats." While at those "retreats," we have experienced just how many humble, gracious, and intelligent people there are in this industry. As president of NELTA this past year, I have had the benefit of working with some of them, including a talented and regionally diverse board of directors focused on continuing NELTA's commitment to education and increasing our membership. And, with the help of so many incredible speakers, we have had an overwhelmingly successful year. I have a lot of people to thank for it.
I want to thank attorney Ed Rainen of Rainen Law Office and Denald Doonan of The Title Research Group, LLC for presenting two well received seminars on the Massachusetts Land Court Guidelines. I also want to thank John Torvi of The Herbert H. Landy Insurance Agency, Inc., attorney Susan Cohen of Peabody & Arnold, LLP, and attorney Melanie Kido of CATIC for joining me in presenting a comprehensive three-hour seminar on Cyber Fraud.
As I look forward to this year's Annual Convention at the Omni Mount Washington Resort on June 15 -18, I want to thank in advance those who will be a part of it, especially our talented group of nationally-known speakers. On Friday, we welcome ALTA representative Dan Wold of Old Republic Title for an "ALTA Update" and Stewart Title's chief economist, Ted Jones, for "Things Change – A Real Estate and Economic Outlook". On Saturday, Patricia Flowers of Investment Property Exchange Services, Inc. will present the latest on "1031 Tax-Deferred Exchanges" and attorney Ruth Dillingham of First American Title will join me for a seminar on "Cyber Fraud: Ransomware and Business Email Compromise - How to Avoid Becoming a Victim and What to Do If It Happens To You."
Additionally, I need to thank NELTA's executive director, Cathy Jones, for her hard work and dedication throughout the year. She is the backbone of our organization. Finally, thank you to my family and co-workers for supporting me every step of the way.
Fittingly, my service as president comes to an end where my involvement with NELTA began, at an annual convention at the Omni Mt. Washington Resort. There, I will enjoy the company of some of the best people in the industry and, while watching my children dash past us, I will be reminded of just how fast it all goes by.
Thanks for the memories. It was an honor to serve as NELTA's President. I loved every minute of it.
A Recent History of NELTA Presidents (date, convention site, incoming president):
• 2000, The Balsams, Dixville Notch, NH, Michael Mellion;
• 2001, Wequassett Inn Resort, Chatham, Mass., Ruthann VanDePitte;
• 2002, Wequassett Inn Resort, Ward Graham;
• 2003, Black Point Inn, Prouts Neck, ME, Joseph Attura;
• 2004, Mt. Washington Hotel, Bretton Woods, NH, Terence Nolan;
• 2005, Wequassett Inn Resort, Philip Fanning;
• 2006, Mt. Washington Resort, Matthew Cholewa;
• 2007, Wequassett Inn Resort, James Fleming;
• 2008, The Hyatt Regency Newport, R.I., Ruth Dillingham;
• 2009, Wequassett inn Resort, Joel Mandell;
• 2010, Mt. Washington Resort, Roberta Baker;
• 2011, Wequassett Inn Resort, Sandra Schoen;
• 2012, Mt. Washington Resort, David Buczkowski;
• 2013, Wequassett Inn Resort, Gary Bernier;
• 2014, Mt. Washington Resort, Christopher Kallenbach;
• 2015, Hyatt Regency Newport, Mark Comstock;
• 2016, Sea Crest Beach Hotel, Falmouth, Mass., Anthony DeSantis;
• 2017, Omni Mt. Washington Resort, Bretton Woods, N.H., James Bodurtha.
Anthony DeSantis is the outgoing president of New England Land Title Association and first vice presdient at Old Republic National Title Inusrance Company, Andover, Mass