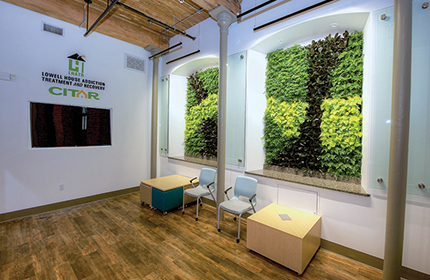 Lowell, MA Green Leaf Construction completed construction of the Lowell House Center for Integrated Treatment and Recovery (CITAR).
Lowell House, Inc. has served the Greater Lowell Community since 1971, providing a wide range of both residential and outpatient programs targeted at assisting individuals and their families during addiction recovery. This new 7,200 s/f location offers much needed additional space for Lowell House to offer services to the community.
CITAR is located at 101 Jackson St., inside of the Lowell Community Health Center.
"This new location is ideal for Lowell House," said project manager Nicole LaCroix. "Since CITAR is inside of the Community Health Center, clients have access to a variety of medical professionals who can help them in their recovery journey. To this end, Green Leaf carefully coordinated construction work that had the potential to interfere with other building tenants. This included a series of plumbing work within the occupied medical office and treatment areas below the space. This work was performed off-hours to avoid disturbance and maintain infection control protocol."
The new Center includes a kitchen space, where clients can learn how to cook healthy meals, as well as increased space for programs such as the Structured Outpatient Addictions Program (SOAP) and Driver Alcohol Education Program. An open house / ribbon cutting will be held later this month.