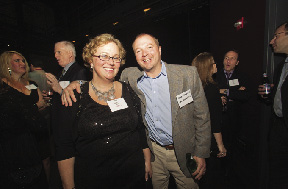 Shown (from left) are: Stacy Chambers, NELSON and Gene Kennedy, Lee Kennedy & Company.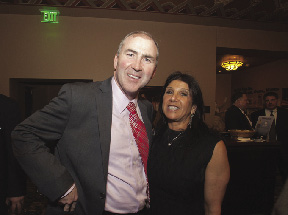 Shown (from left) are: Sean Murphy, Liberty Mutual and IFMA Boston Past President and Judylynn Monaco, Fresenius Medical Care NA.
IFMA Boston had nearly 300 in attendance at this year's holiday gala at The Paramount Center on December 1st. There was an outpouring of support in attendance, sponsorship and the silent auction to help benefit The SPARK Center.
They would like to thank this year's Holiday Gala Sponsors:
Boylston Street Sponsors
* Gale
* ProExpos/NEBFM
* A Friend of The SPARK Center
Federal Street Sponsors
* Callahan Construction
* CBT Architects
* Columbia Construction
* Commodore Builders
* Cosentini
* Elaine Construction
* Erland Construction
* Fort Point Project Management
* Gorman Richardson Lewis Architects
* J Calnan
* Margulies Perruzzi Architects
* Professional Electrical Contractors of CT
* SPRY Moving
* Vanderweil
* Viking Controls
* WB Engineering
* Wise Construction