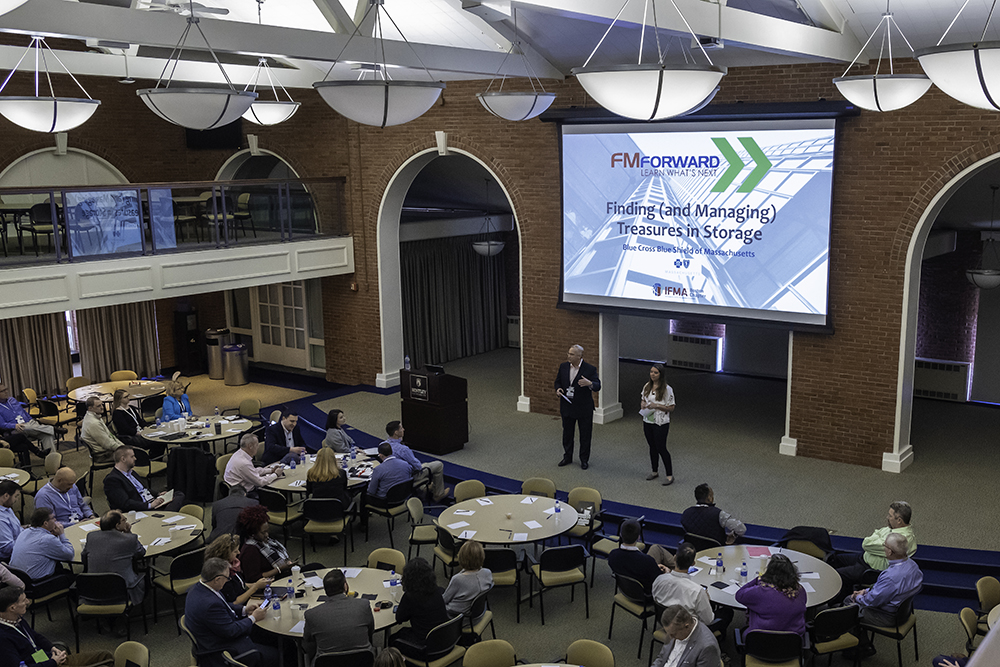 Boston, MA While IFMA International hosts two international conferences a year, there is not a central day of learning, sharing and networking for the organization on a local basis. Until now. IFMA Boston conceived of the idea for a one day facilities management conference last spring and set their sights on March 27th for the launch of FMFoward at Bentley University.
The conference was attended by more than 200 attendees from the FM community. The day kicked off with a keynote address from Deborah Easton, communications skills consultant from Kent State University and then was followed by four Tech Talks—each focusing on a FM collaboration between facilities management and one or more partners. These talks were delivered by Mathworks, Citizens Bank with MovePlan, BCBS of MA and Colonial Systems, and PTC with Margulies Perruzzi and Crowd Comfort.
In the afternoon, the conference consisted of workshops and tour where the attendees could select their track. There was a tour of the new LEED certified hockey arena at Bentley University, and the workshops included "Communicating with Influence" with Deborah Easton, "Understanding Your DISC Assessment for Relationship Building" with Jennessa Durrani of Celebrate, and "Are You Prepared for the Emergency: A Workplace Security Workshop" with Michele Schuler of Kronos and Thomas McGinn of Middlesex Savings Bank.
And the attendees were greeted by exhibitors from the IFMA Boston partnership program including VVA, LLC, USource Energy, Fort Point Project Management, Creative Office Pavilion, NV5, Cannistraro, William B Meyer, Dacon, Margulies Perruzzi Architects, Wentworth Institute of Technology, Timberline Construction, MovePlan, and Shaw Contract.
The attendee reviews were so positive, this will definitely become an annual event.