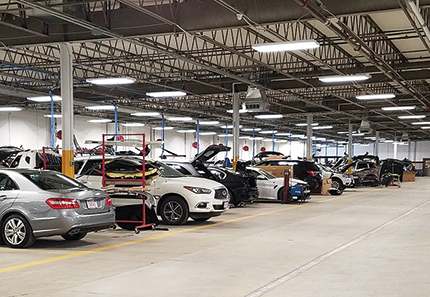 Holliston, MA Integrated Builders has completed the 80,000 s/f Chambers Collision Center on behalf of owner Herb Chambers. The Integrated Builders team included project manager Robert Purdy, project superintendent Michael Croteau, and assistant project manager Kim Sheehan who collaborated with Regent Associates, Inc. on the architectural design.
The new Chambers Collision Center, located at11 Bartzak Dr., has three distinct functions including a 50,000 s/f collision center, a 15,000 s/f service center, and a 15,000 s/f wholesale automotive parts department.
Integrated built-out a welcoming customer lounge, break room, offices, and a reception area at the main entrance. The firm also installed all new mechanical systems throughout the building including a CO2 exhaust with monitoring. The collision and service areas are equipped with sixoverhead doors and 42 stations for vehicle evaluation and services. It includes 13 vehicle lifts and seven paint booths as well as floor drains that lead to two holding tanks measuring 20,000 gallons and 6,000 gallons that are stored underneath the surface of the outside lot. The wholesale automotive parts department includes an open office area for associates that leads to a racked storage space with a mezzanine and motion sensor lights.