Topsham, ME Malone Commercial Brokers has been named to offer for sale two exclusive residential investment opportunities in the state's mid-coast region.
Both properties are located close to cities along the I-295 corridor. Mt. Ararat High School and Middle School are nearby and the Cooks Corner retail hub and Brunswick Landing, a business campus.
Brunswick benefits from its association with Bowdoin College. Located along the Androscoggin River, Topsham has the Topsham Fair Mall which includes national retailers, Target, Dick's, Hannaford, McDonald's, Panera Bread, Tire Warehouse and The Home Depot. Bath Iron Works is the area's major employer.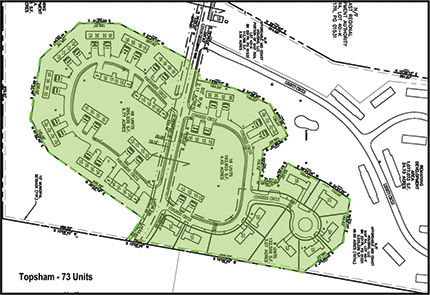 Patriot Common, Topsham:
• 16 two-level buildings and nine single-family ranch homes for 73 units total
• Ranch homes are 4-bed/2-bath units with one car garages
• 56 three-bed/one-bath units, 8 four-bed/1.5 bath units, with one shared carport per two units
• All have an outdoor patio and access to a community playground
Midway Terrace, Brunswick:
• 11 two-level buildings with 62 units total
• 38 two-bed/one-bath units, 24 four-bed/2.5-bath units
• All units have a one-car garage and many have an outdoor patio
• Community features two playgrounds and basketball courts
• Near Cooks Corner retail hub and Brunswick Landing, a business campus.
Midway Terrace is offered at $7.575 million and Patriot Common is offered at $7.43 million by Joe Malone and Jennifer Small of Malone Commercial Brokers .