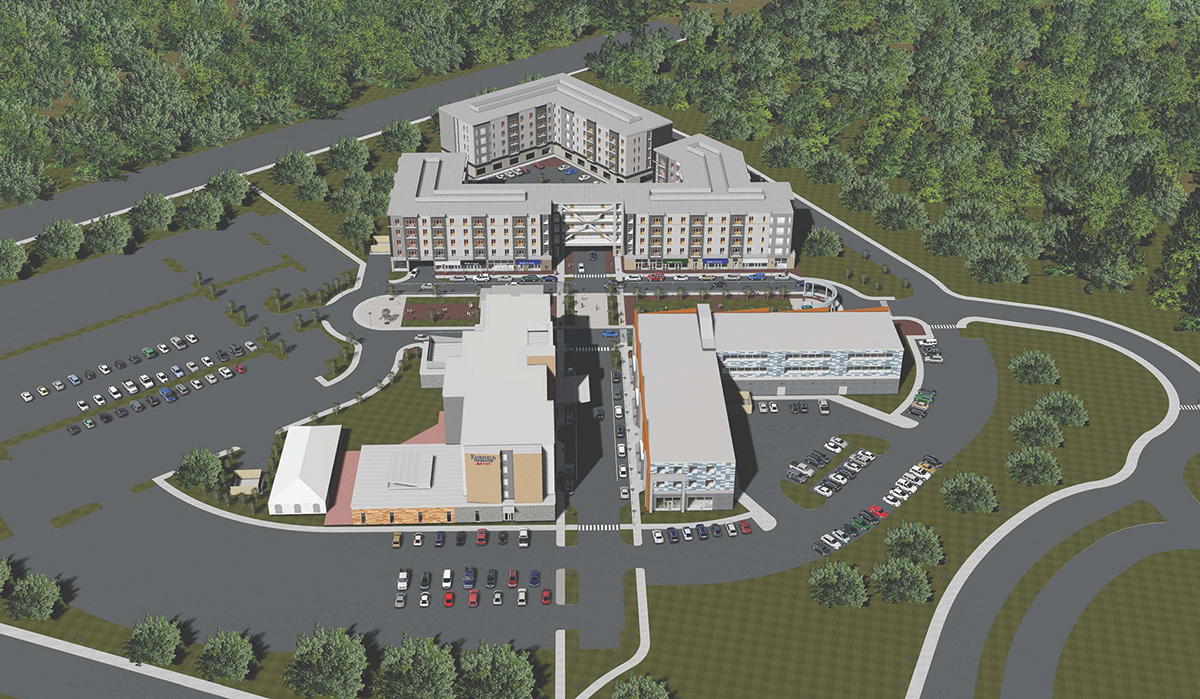 Merrimack, NH A mixed-use development is about to be added to the Merrimack landscape. Work on a new hotel, conference center, apartments, retail spaces and an office building is anticipated to begin in fall at the entrance of the Merrimack Premium Outlets. Development company Monahan Companies joined forces with design-build firm PROCON as the architect and construction manager for the $100 million project.
The conceptual design features a 5-story, 124-room Fairfield Inn & Suites by Marriott with a 5,000 s/f conference center for special events, training meetings and functions. The hotel amenities will include an indoor pool, fitness center, dining area, 24/7 business center and more. Three 5-story luxury apartment buildings will offer one and two-bedroom options totaling 192 units. Plans also include a 42,000 s/f office leasing space along with 28,000 s/f of street-level retail and restaurants.
Merrimack Park Place will be the first live, work and play development of its kind in the area providing an urban-style walkable community. The 20-acre community will be just minutes from large companies like Fidelity, Anheuser-Busch, Atrium and BAE Systems.
Upon completion Merrimack Park Place will provide jobs for hundreds of people and likely attract additional shoppers to the area; not to mention the new apartment residents who will be taking advantage of every amenity the area has to offer.
Tom Monahan, president and CEO of Monahan Cos. said, "The Merrimack Park Place project is a tremendous opportunity to enhance what a great town Merrimack already is. We hope to complement them by creating the type of mixed-use community that they can be proud of in this area and one that attracts and retains talent for the large local businesses. The Monahan Companies and PROCON have enjoyed a long standing working relationship designing and building various projects throughout the state."