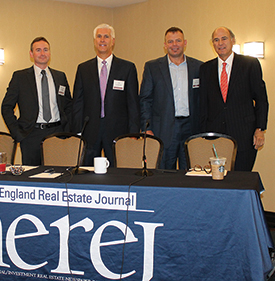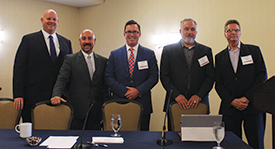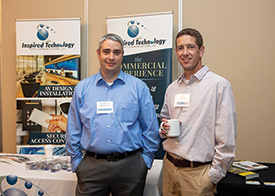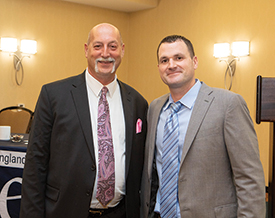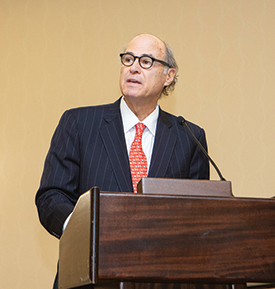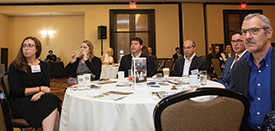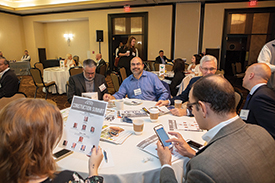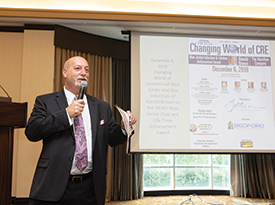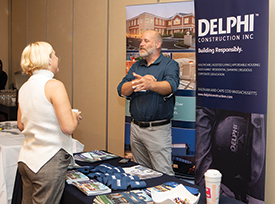 Needham, MA The New England Real Estate Journal with Associated Builders and Contractors, Inc. (ABC) held the Construction Summit at the Sheraton Needham Hotel at 100 Cabot St. on September 27.
The first panel from 9 – 10 a.m. included moderator Jim Rudolph of Rudolph Friedman. Rudolph asked the panel questions regarding workforce development and pre-apprentice training and recruiting into mechanical trades. Members of the panel included: Matthew Osborne of Eastern Bank; Jim Alibrandi of Interstate Electrical Services; and Kyle Reagan of Decco.
Many topics on the construction industry were discussed including how the construction trades are becoming a thing of the past, and what companies can do about it.
Alibrandi said, "Our industry needs to do a much better job at promoting itself."
That led to the discussion on how ABC has created Building Mass Careers on their website http://www.abcma.org. This is to help inform parents, students and guidance counselors about the construction industry, and career opportunities people might not be aware of.
Reagan spoke about the Apprentice Training Program his company has. They take basic skills including responsibility and promptness, and help those in the program develop skills the company is looking for. He mentioned how 75% of his field crew came out of their apprenticeship program.
Osborne spoke about the lending side of construction and how more and more projects are being delayed due to challenges including lack of staffing, labor and materials.
The second panel from 10 – 11 a.m. included moderator Michael Hoban of Hoban Communication. Hoban asked the panel questions regarding the current challenges in commercial construction and the new technology that will improve costs and timelines. Members of the panel included Greg McGee of Lendlease; Ron Ciotti of Hinckley Allen; Stephen Kelly of Timberline Construction; and Keith Shaw of Delphi Construction.
McGee started the conversation regarding the labor shortage in the construction industry. "You could look at my caseload and tell how the economy is going. It has been a litigation explosion."
Ciotti spoke about how material price escalation is an important topic right now in this economy. Without a material price escalation clause in in commercial contracts, "It is rolling the dice in your entire company."
Kelly spoke in length regarding the construction industry, and how companies need to be willing to change and accept change.
There was also discussion on new technology in the industry, such as BIM and prefabrication. Kelly offered insight on prefab wall systems and when you apply it to an occupied space, "It's a huge value-add in terms of minimizing interruption to the site, and it significantly cuts down on things like waste."
Shaw brought up virtual reality as another form of newer technology. His company is using Matterport to give a 3D vision of construction spaces to see the process of the project.
Both panels brought up excellent points on how companies need to change and inspire more people to get into the construction industry.
The New England Real Estate Journal would like to thank the sponsors for this event including: Lendlease, U.S. Pavement Services, Inc.; Timberline Construction; Delphi Construction; Datalyst; and Inspired Technology and Communications, LLC.
Don't miss the Cities of Pawtucket and Central Falls Summit on November 15th at Isles Brewers Guild, 461 Main St. in Pawtucket. For more information, contact Rick Kaplan at rkaplan@nerej.com or call 781-878-4540.
Photo credit elisif photography of Waltham.