Concord, MA Paradigm Properties, a commercial real estate investment and management firm, was awarded a contract to provide property management services for 200 Baker Ave. The new assignment consists of a multi-tenanted office building, bordered by Rte. 2 and Baker Ave. Extension.
The decision to select Paradigm as property manager was made by New Horizons Communications, which acquired the building on November 18.
"We are very pleased to add another asset to our suburban management portfolio," said John Caldwell, president of Paradigm.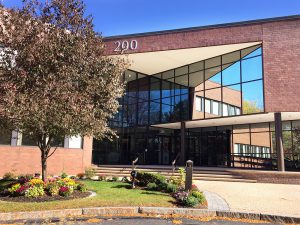 200 Baker Avenue - Concord, MA
"This assignment affirms that Paradigm is viewed as an innovative property management company with an approach that is well suited to suburban office properties. That approach consists of proactive property management practices, a steadfast focus on providing superior services to existing tenants, and greater understanding of how the property management team can assist in leasing vacant space."
The cornerstone of Paradigm's approach to property management is the tenant experience. "By striving to give building tenants a level of service that exceeds their expectations, we are able to ensure that all aspects of the tenant life cycle – from leasing to daily facility operations to accounting and rent collections – run more productively and efficiently for both the tenant and the owner. Our experience as an owner has shown us that this aspect of our services is the key contributor to maximizing revenue and investment value," said Caldwell.
200 Baker Avenue is a 60,448SF brick clad office building located on a 4.25-acre site. The building was constructed in 1972 on a subdivided lot containing undeveloped land and has been utilized as commercial office space for the past 44 years. Currently, the building is roughly 50% occupied. There are three unoccupied suites on the first floor totaling approx. 13,800SF and a 16,500SF unoccupied suite on the second floor which New Horizons plans to relocate to in 2017.
Founded in 1997, Paradigm Properties, LLC is a full service commercial real estate company, providing clients with a comprehensive and expandable suite of services that include asset management, property management, consulting and workout assistance, leasing management, and development services. Through its investment management affiliate, Paradigm Capital Advisors, LLC, Paradigm currently owns and manages more than 6 million square feet of office and industrial space in the northeast, mid-Atlantic, and mid-west through its offices in Boston, MA, Columbus, OH, and Hartford, CT.