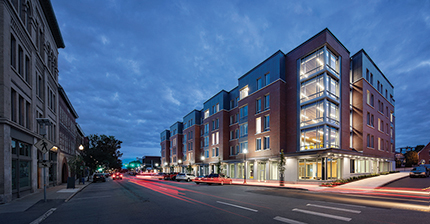 Waterville, ME Colby College's new Alfond Commons, a $25.5 million mixed-use student housing facility on Main St., opened its doors to students in August. The new building represents the first major new construction project in the downtown in more than half a century.
The project is part of a multi-million dollar downtown revitalization effort spearheaded by Colby with a partnership with the city. The master plan calls for rejuvenating a four-block section adding retail, office space, dining and a boutique hotel that will transform Main St. into a destination for visitors, residents, and new businesses.
The Bill & Joan Alfond Main St. Commons is a five-story, 100,000 s/f building that houses 212 students in 52 units. The new building also includes four, two-bedroom faculty apartments and four studios for resident assistants. Amenities include a first-floor fitness center; a studio wellness center for yoga or meditation; a classroom on the second floor with full A/V capabilities; two, two-story glassed-in social lounges for recreation and study; a fifth-floor reading room; study nooks on each floor; and laundry facilities on the third and fourth floors. The units all contain granite countertops in the kitchens and baths, custom cabinetry, stainless steel appliances, and fully furnished living rooms.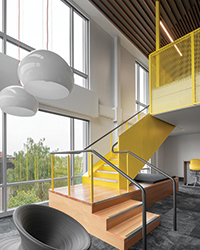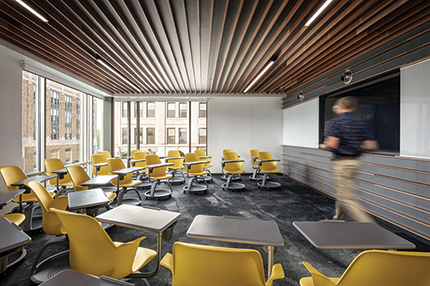 Community Engagement and Community Partnerships
A requirement for Colby students living in the building is civic engagement. The new program, Community Engagement and Community Partnerships, integrates academics and community involvement through course work, research, independent study, internships, and/or volunteerism. Students living in the downtown building are also active community members, living, shopping, and eating downtown.
Community and Retail Space on Ground Floor
The corner of the building at Main and Appleton Sts. on the ground floor features a 3,800 s/f glassed-in multi-purpose community space, the Chace Community Forum. The space was designed to be used as meeting space for Colby, the city council, non-profit organizations, and other community groups. The ground floor also contains space for Camden National Bank.
Sustainability
The building was designed to meet USGBC's newest version of Leadership in Energy and Environmental Design (LEED), v4, Silver Certification. Some of the sustainable, environmentally friendly features of the building include:
• Construction materials produced in a responsible manner, including those with recycled content and minimal concentrations of chemical contaminants;
• Green power that reduces greenhouse gas emissions through grid-source, renewable energy technologies and carbon mitigation (reducing energy consumption by 20% compared industry-standard practices;
• White roof that reflects sunlight, reducing heat and ultimately reducing the building's energy usage;
• Water systems engineered to reduce consumption by 45% against industry-standard practices; and
• Shuttle that runs from campus to Main St. daily to reduce dependence on cars, as well as preferred parking for carpools.
The design/build project team included Landry/French Construction; architect Ayers Saint Gross; Becker Structural; Johnson & Jordan (mechanical and plumbing); ES Boulos (electrical); and Sebago Technics (civil engineering).
Despite the project's challenges including a statewide labor shortage, discovery of unsuitable soils, and extreme winter conditions, the 16-month project was delivered ahead of schedule.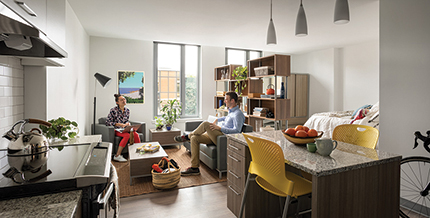 Colby College's Alfond Main St. Commons design/build team
Landry/French Construction - design/builder
E.S. Boulos Co. - electrical design builder
Ayers Saint Gross - architect
Sebago Technics - civil engineer
Johnson & Jordan - mechanical design builder
Becker Structural Engineers - structural engineer