Professional Profile: David Bradley 1975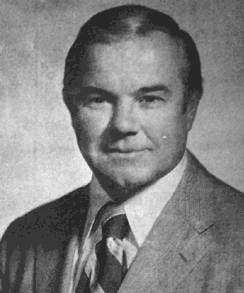 David Bradley - 1975
Name: David Bradley - 1975
Title: president
Company: L. Davenport Boyd, Realtors
Location: Weston, Mass.
Birthplace: South Orange, N.J. - 1922
David Bradley, president of L. Davenport Boyd, Realtors, in Weston, is the current president of the Greater Boston Real Estate Board. Born in May 1922 in South Orange, N.J., he attended school there, at Deerfield Academy and graduated from Williams College with the class of 1944. He didn't receive his degree (he had been a pre-med major) until two years later because of World War II. From 1942-46 he was a naval aviator flying bombers. As he was about to leave from San Diego for the Pacific Theater the war ended. Dave married the former Barbara Boyd in 1944. Her dad operated a real estate firm in Weston. After the war he went to work as a sales representative for Towle Silversmiths covering Michigan, Ohio and Indiana, and living in Detroit for five of the seven years. Returning to the east, he went with his father-in-law's office for three years until 1956. Then he joined Cabot, Cabot & Forbes in Boston where he remained for nine years, becoming vice president of Commercial Development, handling office building, shopping center and hotel development. He was involved in construction of Technology Square in Cambridge, 28 State Street, Boston and five Charterhouse (now Sonesta) hotels. During the building of the facility in Bermuda, Dave commuted to the island 36 times in a 28-month period. In 1965 he bought the real estate business from the Boyd family, which was founded in 1934. The firm was involved in land development and subdivision construction west of Boston. The company owns five buildings in Weston, including a small shopping center. Currently, L. Davenport Boyd is involved in construction of $60,000 to $80,000 homes in the Farrar Pond area of Lincoln, where 27 of the proposed 80 homes are already sold. Dave's oldest son David Jr., a graduate of Nasson College in Springvale, Me., is working with his father while attending Babson College for his master's degree in business. Douglas is associated with National Merchandising in Natick, Stephen attends the University of Vermont and his daughter Betsy is a student at Middlebury College. The family owns property in the Belgrade Lake area of Maine where Dave does his boating, fishing and hunting, including bird shooting. They also own a condominium at Sugarbush where they all ski. "Real estate has undergone a radical change since 1968; it's a different type of business, mainly because of government controls. We may never see a return to what we used to call normal in the early 60s" is the way he sizes up his industry. "The traditional sources of money for financing are on the wane. We've got to become innovative when seeking funds. "As for single family construction, it's going to be hard to continue in the Boston area. We need more flexible land use legislation in the towns, otherwise single families are on the way out. Builders need a higher density to lower their prices. There are different approaches used in other parts of the U.S. and even in New England. "From a brokerage standpoint, I'm optimistic. The public has to depend on the broker because competition is horrendous." Dave is in favor of tighter controls on licensing salesmen and brokers. "We need a higher caliber of people in the industry. We have to strengthen the standards, requirements, education and experience. It's required in other businesses and should be in ours." A strong proponent of political action he says "I know that elected officials listen to their constituents. In this state the Realtors have an effective Legislative Network. They are encouraged to have a person-to-person relationship with their legislators. And this well be beneficial when it comes time to vote on taxation matters, banking controls and rent control." A real estate veteran of 22 years, Dave was president of his local council and later, headed the Brokers Institute. He has served on the Boston board's Membership, Future Planning and Professional Standards & Ethics Committee. Memberships include the Ma. Assn. of Realtors, National Realtors Marketing Institute, and the Urban Land Institute. He is an overseer of Sturbridge Village, a corporator of the Waltham Hospital, a director of the Workingmen's Coop. Bank where he serves on the Investment Committee and a director of the Golden Ball Tavern Trust, the Weston historical society.