Professional Profile: Lawrence Ilfeld 1995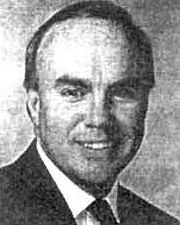 Lawrence Ilfeld - 1995
Name: Lawrence Ilfeld - 1995
Title: Broker
Company: Stebbins Realty Corp.
Location: Manchester, NH
Birthplace: Weston, Mass.
Family:
Wife Rebecca, son Michael, daughter Nancy
High school/college activities:
Ice hockey, tennis, drama
First job outside of real estate:
Major appliance distribution
First job in real estate or allied field:
Manager, local commercial realtor
What do you do now and what are you planning for the future?
Position myself and company for improved commercial real estate market
Hobbies, likes:
Ballroom dancing, jazz
Extracurricular time:
Family time, travel
Last or favorite book:
"The Firm"
Last or favorite movie:
"Pelican Brief"
Person you most emulate (outside of family):
Lee Iacocca
Key to success:
Focus on what you do best and keep repeating it.
If you were to choose another vocation, what would it be?
Editor, New England Real Estate Journal