Professional Profile: Michael Voccola 1996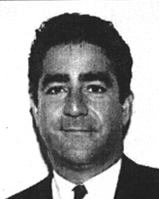 Michael Voccola - 1996
Name: Michael Voccola - 1996
Title: Broker
Company: Olympus Group Real Estate
Location: Providence, R.I.
Birthplace: Providence, R.I., 1958
Family:
Son, Michael John, 7
College:
Boston College, School of Management, 1980
First job outside of real estate:
Tour guide, presidential yacht, U.S.S. Sequoia
First job in real estate or allied field:
Downing Corp.
What do you do now and what are you planning for the future?
Commercial brokerage sales and leasing; expect to graduate from law school, June 1997
Hobbies, likes and dislikes:
Building models with son, also people who are loyal and honest; dislike people who are pretentious
Extracurricular time:
Coach youth league baseball team
Last or favorite book:
 "Plain English for Lawyers"
Last or favorite movie:
"Birdcage"
Person you most emulate (outside of family):
Henry Kissinger
Key to success:
Follow through If you were not successful in the business you are now in and were forced to choose another vocation, whether you an qualified or not, what would it be?
Plumber