Boston, MA On July 24, the Real Estate Finance Association (REFA) will host their 14th Annual Charitable Golf Tournament at Dedham Country & Polo Club, benefiting FamilyAid Boston and Rosie's Place. Close to 150 REFA members and guests will participate in the golf outing, followed by a reception and awards dinner.
FamilyAid Boston has been providing shelter, housing, and hope to families since 1916. The organization helps 800 families each year, including nearly 1,500 children. FamilyAid Boston works with families at every stage of the journey from homelessness to housing by providing homelessness prevention, emergency shelter, and permanent affordable housing. All of FamilyAid Boston's programs are supported by compassionate case management from social workers, employment counseling, and housing search assistance. Together, these services help families resolve their crises and prepare for a brighter future.
Founded by Kip Tiernan in 1974, Rosie's Place is the first emergency shelter for women in the United States. The mission of Rosie's Place is to provide a safe and secure environment for poor and homeless women to maintain their dignity, seek opportunity and find security in their lives. For over 40 years, Rosie's Place has been a place like no other. It is a place where welcome and help are offered to all, unconditionally. A sanctuary – offering meals, groceries, shelter and showers. A steppingstone – offering women free ESOL, citizenship and technology classes as well as assistance finding employment and housing. Rosie's Place advocacy, self-advocacy and art programs offer engagement and empowerment to their guests.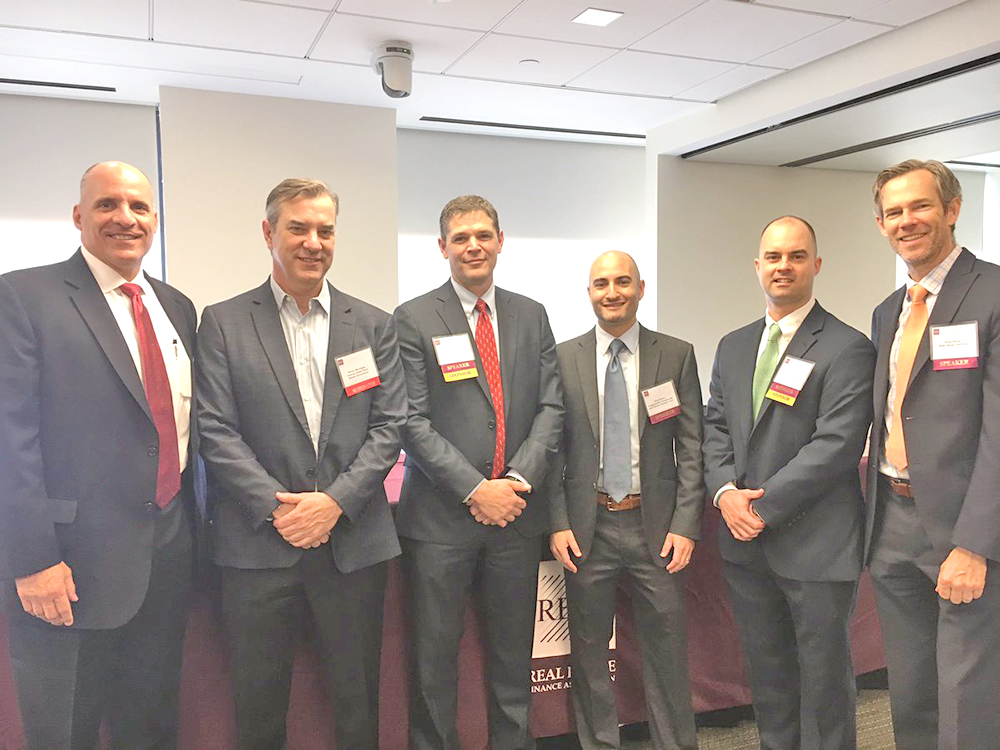 On May 18, REFA held its second quarterly education program of the year, "Managing The Capital Stack – Debt Financing," at WilmerHale with over 100 in attendance. The program's moderator, Peter Merrigan, CEO and founding partner, Taurus Global Real Estate, led an in-depth panel discussion among speakers Robert Brown, SVP, division executive, commercial real estate, Brookline Bank; Paul Doyle, SVP, commercial real estate, HSBC Bank USA N.A.; Jared Lewis, senior director, underwriting, Tremont Realty Capital, a division of The RMR Group; and Paul Stern, managing director, Guggenheim Commercial Real Estate Finance, LLC.
REFA held a members-only breakfast on the topic of "Alternative Asset Classes" on Tuesday, June 6. The panel, including moderator, Brian Kavoogian, president, Charles River Realty Investors, and speakers Jeff Karp, president and co-founder, LAZ Parking (parking facilities specialist); Gabe Cole, managing director, JLL (data center specialist) and Wendy Nowokunski, president, Northbridge Companies (senior housing specialist) discussed the demographics, technology and trends driving growth in specialized asset classes (including parking facilities, data centers and senior housing) and the potential headwinds that could impact each sector.
REFA's first executive insights program of the year will be held on Tuesday, June 13, featuring Steven Marsh, managing director of real estate, MIT Investment Management Co. Hosted by the REFA Emerging Leaders Group, the REFA executive insights series provides Emerging Leader attendees with the opportunity to meet with industry leaders in an intimate setting. Speakers provide insight on the industry, their career path and share some advice on professional development. The program is designed to be interactive and attendees are encouraged to ask questions.
The 2017 REFA Annual Gala will be held Wednesday, October 4 at the Westin Copley Place. Stephen Karp, chairman and CEO of New England Development and Steven Fischman, vice chairman of New England Development will be awarded with the 2017 Robert S. Swain Jr. award, REFA's Distinguished Service Award.
To learn more about REFA, including membership, events, and ways to get involved, please visit us at www.refa.org. Follow REFA on Twitter @REFABoston.