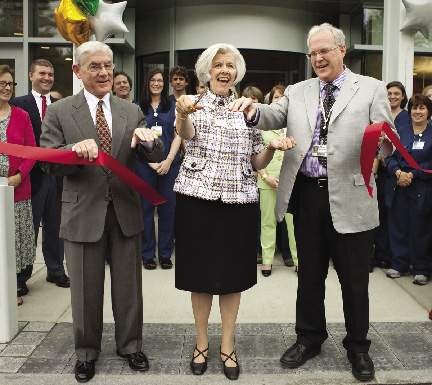 Shown (from left) are: trustee Alan Keiller, co-president Nancy Formella and OSC medical director Douglas Merrill MD.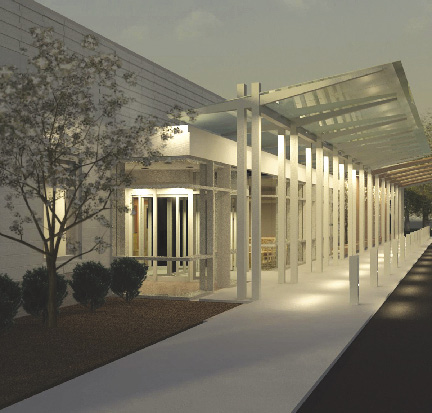 Rendering, entrance canopy, Dartmouth-Hitchcock Outpatient Surgery Center.
Officials of Dartmouth-Hitchcock Medical Center cut the ribbon on a $14.5 million Shepley Bulfinch-designed outpatient surgery center (OSC) on June 17. The ribbon cutting was part of a public open house for the OSC, which officially opened to patients on June 22.
"The OSC is designed to enhance the efficiency of current operations by performing many outpatient surgical procedures at a single, specialized facility, and reserving DHMC's current surgical suites for more complex surgical procedures and emergency trauma cases," said OSC medical director Douglas Merrill MD.
The 41,000 s/f center is expected to accommodate 4,100 outpatient surgeries annually. With eight operating rooms that will open in two phases, the center makes same day surgical procedures convenient and accessible for patients while freeing up space in the main hospital's operating rooms.
Located near the entrance to DHMC's Lebanon campus, the facility is and accessible for patients and efficient for the medical center's staff. The center includes dedicated parking and a glass canopied entry that takes visitors into a waiting area. Designed and built with an emphasis on value and energy efficiency, the building envelope is tailored to the temperature extremes of northern New England.
Shepley Bulfinch has been working with DHMC to develop and expand its facilities since the mid-1980s. Pizzagalli Construction was the construction manager for the OSC project.