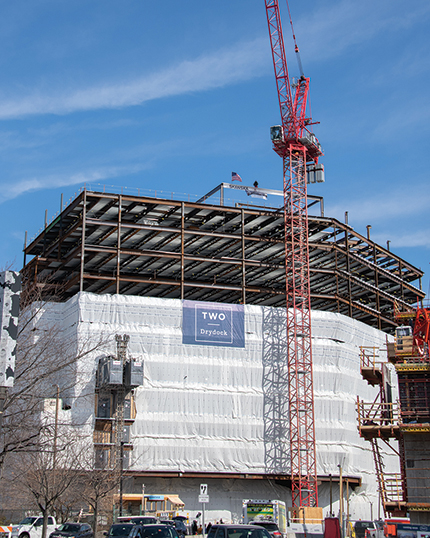 Boston, MA Skanska has topped out at its sixth development in Greater Boston, Two Drydock.
The 12-story, 225,000 s/f, Class-A, office building will soon have 9,500 s/f of ground-floor retail, 150 parking spaces and a 12,000 s/f public plaza. Two Drydock will also feature bike storage, and a 7,500 s/f rooftop terrace with a fitness center that includes locker rooms and showers, all with panoramic views of Boston Harbor and the city skyline.
"With its ideal location for forward-thinking companies, Two Drydock will contribute to the innovation and technology cluster forming in the Eastern Seaport," said Charley Leatherbee, head of commercial development operations for Skanska .
Reaching this milestone to form the building's steel structure required:
• 60 construction workers dedicating approximately 14,000 hours
• 5.8 million pounds of steel
• 42,172 bolts
• 1,776 steel beams
Located at 2 Drydock Ave. in the Eastern Seaport, the commuter-friendly building is adjacent to the MBTA's Silver Line, offers shuttle service to commuter hubs, and is near the ferry that connects the Seaport to North Station. Two Drydock is also accessible to I-90 and I-93, and is near Logan International Airport.
Two Drydock broke ground in June 2018. To commemorate the project start, Skanska joined mayor Martin Walsh to present a $100,000 donation to The Martin Richard Foundation for the creation of Martin's Park, a public green space near the Boston Children's Museum.