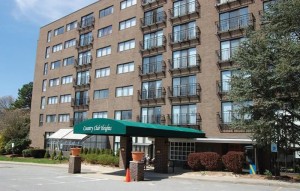 Brightview Country Club Heights, Woburn, Mass.
Woburn, MA South Coast Improvement Company (SCI) recently began a renovation project at Brightview Country Club Heights, an independent and assisted living facility located at 3 Rehabilitation Way owned by The Shelter Group.
The project features renovation of first floor common areas, including the staff lounge, office space, arts and crafts room, billiards room and multi-function room. Work will also include a new kitchen area with all new millwork, new plumbing in the salon, and new flooring throughout.
SCI began these renovations in January and will complete work in May. The total renovation project will cost approximately $700,000.
"We have done four major renovations at Country Club Heights and a total of 17 for Brightview senior living properties. While some of that has to do with the quality of our work, I'm convinced that most of it has to do with how easy we are to work with," said Tom Quinlan, president of SCI.