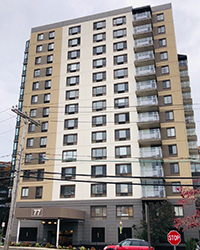 Stamford, CT South Coast Improvement Company (SCI) finished the final phase of renovations at the Atria Stamford senior living facility located at 77 3rd St. The company began the $13 million project in summer 2017 and completed in August 2018.
The project featured the renovation of 137 resident room renovations at this high-rise, assisted living facility. This included the conversion of common space areas into two luxury penthouse apartments with an outside terrace decking system.
Additionally, the project included a mechanical-electrical-plumbing upgrade to a number of common space areas such as the salon, commercial kitchens, theater, library, mailroom, offices, fitness suite, dining room and town hall.
On the exterior, the facility received 48 exterior balcony upgrades with 12 new fully enclosed balconies fully conditioned, full exterior repaint, and a complete landscape package.
"We have done several projects with Atria at their facilities around the northeast. Atria Stamford was by far the largest," said Tom Quinlan, president of SCI. "By focusing on process and communications with our team and Atria staff and management, we kept the project running smoothly and on time. Most importantly, we accomplished this while keeping disruptions to operations for both residents and staff to a minimum.