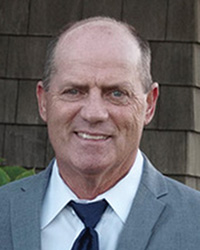 Duxbury, MA Jamie MacNab has joined South Shore Habitat for Humanity as construction manager.
MacNab brings more than 40 years of construction experience to his position as construction manager. He built his business working mostly on residential properties primarily in Duxbury but has worked throughout the south shore. MacNab loves old homes and specialized in the preservation of historic structures. MacNab holds a Massachusetts construction supervisor license and a home improvement contractor's license.
MacNab will oversee all of the new and ongoing construction projects in the 35 cities and towns that South Shore Habitat serves.
He will be in charge of the site supervisors and the volunteers for build days.
"This is really a dream of mine to be involved with this wonderful organization," said MacNab. "This is a great opportunity to pay it forward."
"We are so fortunate to have Jamie join us in this important role," said Martine Taylor, executive director of South Shore Habitat for Humanity. "Jamie's experience and talent are incredible and his patience and gift for teaching our volunteers is amazing. He is a great addition to our team."
The Mission of South Shore Habitat for Humanity is to build strength, stability and self-reliance through shelter by partnering with families in need of affordable housing. Families put in "sweat equity hours" alongside local volunteers on the building of their home and purchase the home with a 30-year, affordable mortgage. Homes do have a deed restriction that maintains the affordability status of each home in perpetuity. Habitat Family Partners are selected through a competitive underwriting process based on their ability to pay, willingness to partner, and their need for adequate housing. South Shore Habitat for Humanity offers a "hand-up, not a hand-out," said Taylor. "Habitat does not build these homes, the local communities do. We are so very grateful to all of our donors and supporters for their contributions and for making homeownership a reality for these families.
The organization's headquarters are located at 20 Mathewson Dr. in Weymouth but they serves 35 cities and towns south and southwest of Boston. To date, South Shore Habitat for Humanity has delivered 58 homes to local families on the South Shore. Currently, the organization has a strategic plan to build twelve homes by 2020, which is on pace to deliver another 58 homes in a little less than a decade. "The need for housing is critical. Together with municipalities, we can be a solution to the affordable housing crisis here on the South Shore," said Taylor.